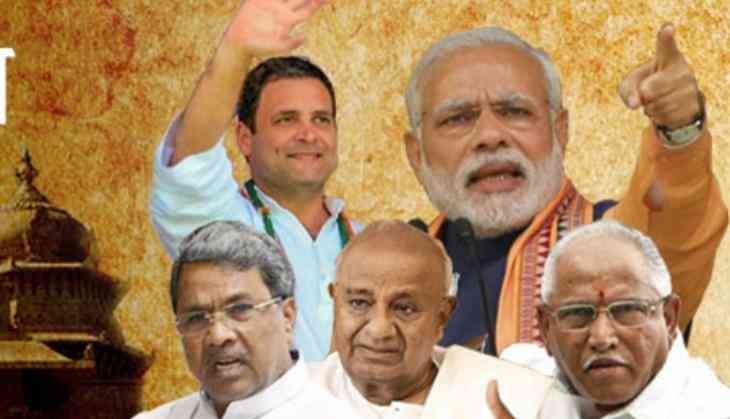 Debate on Karnataka election yet not finished, however, the BJP leader Yeddyurappa has taken the oath as the 23rd CM of the state. Earlier, the headlines were in the news that the MLAs of Congress were kept in the resort named Eagleton The Golf Resort. Now, the news has come that two MLAs of Congress have missed now. Yes, a party MLA Anand Singh from Bellary didn't arrive at the resort. While the second MLA named Pratap Gowda Patil.
According to the sources, Patil from Karnataka's Hyderabad region, Maski from Raichur has joined BJP now after his missing reports from the resort. Last night, Congress MLA has shown his support to the party by signing the support letter.
During an interview with AajTak, Pratap Gowda was asked whether Congress MLAs have gone to join BJP then, he replied that opposition leaders must consider the public decision.
Meanwhile, the Congress party has started its protest outside the Karnataka Legislative Assembly. Ashok Gehlot, Ghulam Nabi Azad, Siddaramaiah, DK Shivakumar and other Congress MLAs are performing their protest near to the Gandhi statue outside the assembly. As per the reports, JD(S) MLAs also joined the protest against the CM Yeddyurappa's oath ceremony.
In response to Yeddyurappa's swearing-in, Congress leader Siddaramaiah said that he does not believe in this democracy now.
BJP leader BS Yeddyurappa has taken the oath as a CM today at Raj Bhavan. Karnataka Governor Vajubhai Vala has announced that the oath ceremony will take place at 9 am on 17th May in Raj Bhavan under the tight security.
However, the hurdle for BJP yet not finished as SC demanded a majority support letter from the party till 18th May morning.
Well, Congress MLAs joining BJP reports are true or not, it is still unknown.
Watch Video:
Also read: What! Yeddyurappa, newly elected CM of Karnataka might lose his chair in the next 24 hours; SC demands majority letter