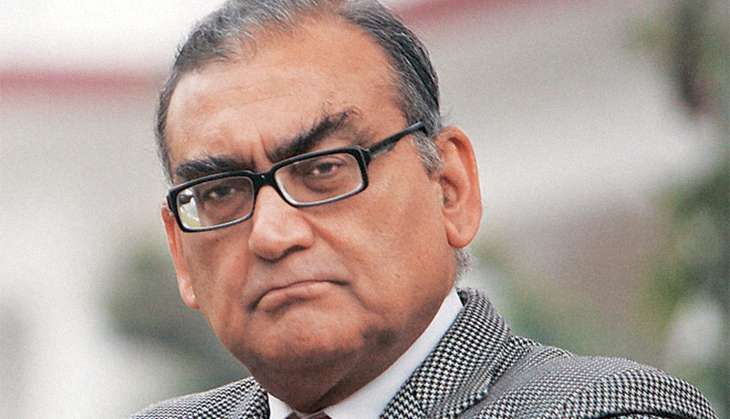 Justice Markandey Katju cannot keep himself off controversies. His presence on social media can be felt every hour of the day.
Recently, he was booked for sedition for his comments on Bihar. In a Facebook post, he had asked Pakistan to take Bihar along if it wants Kashmir. "We offer you Kashmir but you should take Bihar also," he had said.
Commenting on the post, CM Nitish Kumar said, "Ghar baithe 'mai-baap' ban rahe hai Bihar kaa...(trying to become guardian of Bihar while sitting at home)."
Known for his diligent and sarcastic comments, Katju once again penned down his thoughts about Rahul Gandhi and his yatra in Meerut. Referring to the yatra, Katju cracked a joke narrating Shravan Kumar's story.
However, the one thing which makes the status special is the disclaimer at the end of the status. Read below to find out:
Just saw Rahul Gandhi on T.V. doing a road show in Meerut.
Somebody should have advised the poor lad to give Meerut a wide berth. It is well known that one goes bonkers on entering Meerut, as the story of Shravan Kumar illustrates.
Shravan Kumar's aged parents wanted to go on a pilgrimage. So he put each parent in a basket and tied each basket to an end of a bamboo pole, which he shouldered while on the pilgrimage.
However, as soon as he entered Meerut, he threw down the pole, and told his parents " I am a young man, and want to enjoy life. Why should I waste my life serving you ? "
His father, who was a man of long experience, immediately understood what had happened, and said " Son, you have been good enough to carry us till here. Only carry us a short distance more till we cross the border of Meerut. Then you can leave us. "
Shravan Kumar then picked up the pole and as soon as he crossed the border of Meerut he recovered his senses, and told his parents " I am sorry Mataji and Pitaji. I lost my senses on entering Meerut. Forgive me. Now I am normal again, and will take you on the pilgrimage ".
So folks, give Meerut a wide berth if you know what is good for you
Hari Om
P.S.
Meerut vaasiyon.This is only a joke. So dont behave like a Bihari and file a sedition case against me