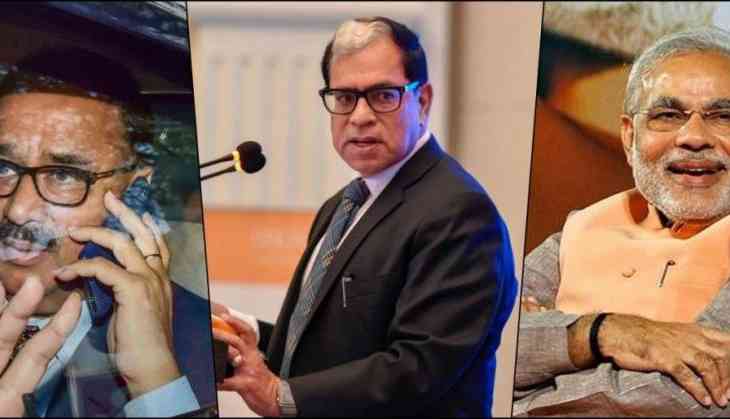 Justice AK Sikri (The Wire)
Justice AK Sikri, who was due to hear the PIL seeking the removal of M Nageshwar Rao as the interim director, has recused himself from hearing the matter and has postponed the hearing until tomorrow.
In the last hearing on 21st January, Chief Justice of India Ranjan Gogoi had said that he cannot hear the matter as he is a part of the select committee panel, which will decide upon the new CBI director on 24th January.
And, Chief justice Ranjan Gogoi had therefore recused himself and the 2nd most senior ju8dge, Justice Sikri was brought in, who was due to hear the matter today but has said that he cannot take up the matter.
Now, the NGO Common Cause, which filed the plea has stated that this would send a "wrong message" to the public and a narrative is being set that two most senior judges of the Supreme Court are in a tandem over hearing the CBI director's case.
Justice AK Sikri recuses himself from hearing the plea filed by an NGO challenging M Nageshwar Rao's appointment as the interim CBI director. Justice Sikri asks matter to be listed tomorrow.

— ANI (@ANI) January 24, 2019
Dushyant Dave, the lawyer representing the NGO told the court, that "If we had known yesterday itself, we would have asked the CJI to list it today. It seems you don't want to hear the case."
In his response, Justice AK Sikri said, "You know me well and my position. Since I am recusing I can't say anything... I agree the PIL raises some important issues. We can have it tomorrow and let me not be part of this hearing. If it is an administrative order I would have known, and since it is a judicial order I have to recuse now only."
Also read: 'Snatch away voting rights of those who have more than 2 kids,' says Baba Ramdev, in a controversial statement