Somi Das
| Updated on: 10 February 2017, 1:50 IST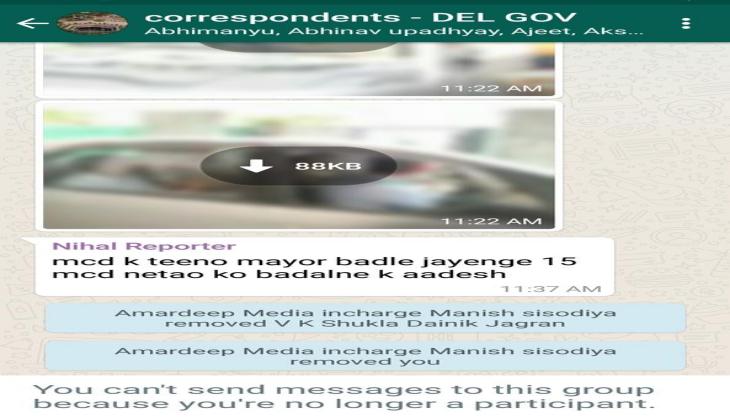 Half a dozen journalists were, on 18 April, removed from three different Whatsapp groups run by Arunoday Prakash - media advisor to Deputy Chief Minister Manish Sisodia - and Amar Deep Tiwari - the Delhi government's media advisor. 
ABP reporter, Jainendra Kumar, tweeted a screenshot of his name being removed from the group. While these three platforms are not official government groups, they have become a source of information of the Delhi government's daily functioning for the beat reporters. 
मैंने फेसबुक पर ये ब्लॉग शेयर किया थाhttps://t.co/6ropQQJi7W
नतीजा दिल्ली सरकार के व्हाट्सऐप मिडिया ग्रुप्स से बाहर pic.twitter.com/j3SvcMwDqH

— जैनेन्द्र कुमार (@jainendrakumar) April 18, 2016
In the center of the row is a blog written by NDTV's Ravish Ranjan Shukla, one of the journalists who was also removed from the groups. 
On 17 April, Shukla wrote a blog post - titled "Sawalo pe ankheil tarerate sarkari salahkar (Government advisors raise eyebrow when difficult questions are asked)". He wrote: "Dear advisors, you can keep shooting the messenger and award them with dirty labels... Delhi I congratulate you for keeping such advisors". 
Shukla wrote the post after having attended Delhi's transport and rural development minister Gopal Rai's press conference. At the meeting, the media advisor to chief minister Arvind Kejriwal, Nagendra Sharma had blocked Shukla's query on the lack of public transport in Delhi. 
However, the post makes no mention of any particular press conference, neither does it name Gopal Rai or Nagendra Sharma. 
After being removed from the WhatsApp group, Shukla tweeted about the "fascist nature" of the AAP government.
@ravishranjanshu hahahahaha तभी @ravishndtv बोखलाए थे आज

— Shrikant (@ShrikantKaware) April 18, 2016
बात व्हाट्स ग्रुप की नहीं..उस सोच कि है जो सवालों को सुनने की आदी नहीं है। फांसीवादी सोच। https://t.co/vKSSzTsXlP

— ravish ranjan shukla (@ravishranjanshu) April 18, 2016
Shukla's tweet was shared on Twitter by ABP's Jainendra Kumar. The two were removed from the WhatsApp group, as were two other journalists from Dainik Jagran and one from Aaj Tak. 
Interestingly, on 18 April, Chief Minister Arvind Kejriwal reacted sharply to a tweet by Rajkishor, the national chief of bureau of Dainik Jagran.  
What about the freedom of expression of @RajkishorLive ? Only @ArvindKejriwal needs आज़ादी ? pic.twitter.com/qdoO63hUrD

— Vikas Bhadauria ABP (@vikasbha) April 18, 2016
Going by his tweets, Rajkishor is very critical of CM Kejriwal's policies, including the ongoing Odd-Even scheme.   
Catch questioned AAP's media advisors on the allegations of increased hostility against the media. Both advisors toed a similar line, while skirting the specific issue of ousting journalists from the groups. Here are the responses we got: 
Nagendra Sharma: There is no WhatsApp group run by the Delhi government. These groups are run at a personal level by my colleagues - Arunoday Prakash and Amar Deep. They pay their own bills. It is entirely their prerogative who they want to keep in a group and who they don't want to. Lies are being spread with a malicious intent. 
Arunoday Prakash: I have been a journalist for 12 years. I created this group on the insistence of my friends in the media to facilitate information flow because many people don't check their mails. This is not a government platform. I pay the bill for the number. Since the group was created by me, it is entirely up to me who to keep in it. These allegations of media hostility are totally baseless. We are very media friendly. We always speak to the media, be it at 7 in the morning or 12 at night. Please don't go by what a handful of people are saying. 
AAP's tiff with the media
On its first day after having assumed power in 2013 - the now infamous 48-day debut - the Aam Aadmi Party antagonised the media by not allowing them into the secretariat. This resulted in the media retaliating by boycotting a press conference held by Deputy Chief Minister Manish Sisodia. The turmoil on the very first day portended the future of the relations between the media and the AAP. 
From saying that the media has taken 'supari' to finish off the AAP, to issuing an order to monitor channels round the clock, Kejriwal government's relationship with the media hasn't exactly been a smooth ride.