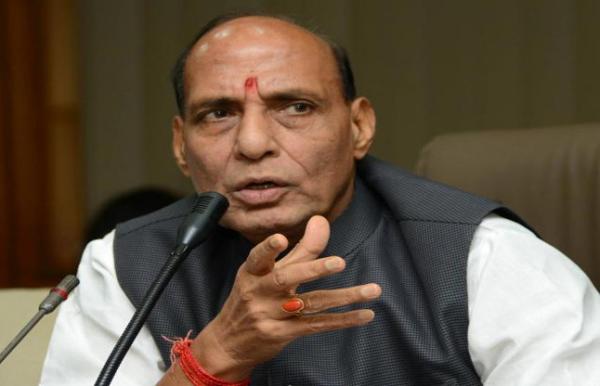 Home Minister Rajnath Singh's Twitter mentions were flooded on 14 February after he said that Jamaat-ud-Dawah chief and Pakistan-based 26/11 Mumbai terror attacks mastermind, Hafiz Saeed, was behind the ongoing protests in Jawaharlal Nehru University.
Today the Home Minister told the media:
"I also want to make it clear that the JNU incident has the support of LeT chief Hafiz Saeed. We should also understand this reality that Hafiz Saeed has supported this incident and it is extremely unfortunate."
Many questioned if the Home Minister had drawn his conclusion on the basis of a tweet from an unverified account in the name of Hafiz Saeed which had lent support to the JNU protests.
A news website reported on 13 February that the Delhi Police had issued an alert based on the said tweet. The website also quoted the following tweet from the @HafeezSaeedJud account, which read:
"We request our Pakistani Brothers to trend #SupportJNU for our pro-Pakistani JNUites brothers."
Hafiz Saeed is known to tweet from @HSaeedOfficial. But the following tweet from the handle @HafeezSaeedJud - run by a certain Hafeez Muhamad Saeed - has been making the rounds on social media.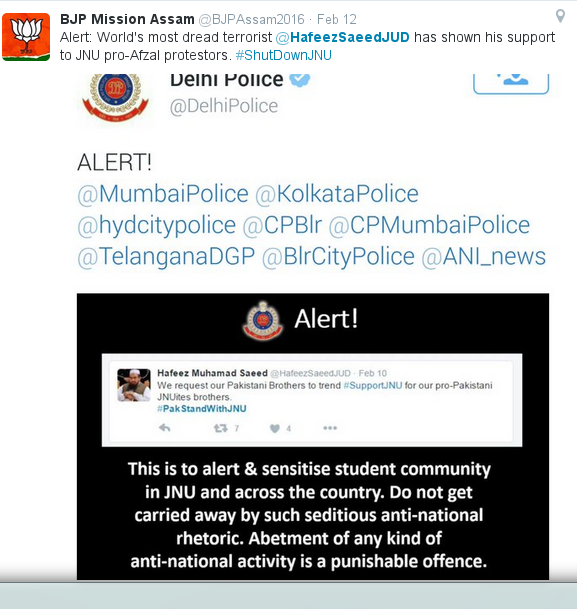 Twitter took Rajnath Singh to task for basing his statement on the JNU protests on information from an unverified account.
Home Minister attributing Conspiracy behind JNU Protest to Hafiz Saeed based on Fake Twitter Handle. And Govt expects us to believe them

- Joy (@Joydas) February 14, 2016
Was Home Minister comment on Hafiz Saeed link to #JNU protests based on a fake Twitter account? This would be funny if it werent so serious

- barkha dutt (@BDUTT) February 14, 2016
A fake Twitter handle of Hafiz Saeed being cited and then used by home minister? Banana republic or what?? Some rationality please.

- Rajdeep Sardesai (@sardesairajdeep) February 14, 2016
Imagine how happy Rajnath Singh made #HafizSaeed & Pakistan! Now that he's declared war on Indian students. #JNUCrackdown

- swati chaturvedi (@bainjal) February 14, 2016
Is it true that the fake Hafiz Saeed handle was created by a senior journalist on orders of Arvind Kejriwal?

- Rahul Roushan (@rahulroushan) February 14, 2016
While there is no official word from the Delhi Police on the unverified account yet, Rajnath Singh has not elaborated on the grounds of the allegations he has levelled against the students of JNU.
Former Jammu and Kashmir Omar Abdullah asked Singh to make public how he linked the JNU protest to Hafiz Saeed.
The Home Minister must go public with the evidence collected that enabled him to level this charge against the #JNU students #HafizSaeed

- Omar Abdullah (@abdullah_omar) February 14, 2016
Cracking down on students & using #HafizSaeed to justify the crack down is a new low, even for this NDA government. #JNUCrackdown

- Omar Abdullah (@abdullah_omar) February 14, 2016
The protests at the varsity began on 9 February following an event to mark the hanging of 2001 Parliament attack convict, Afzal Guru.