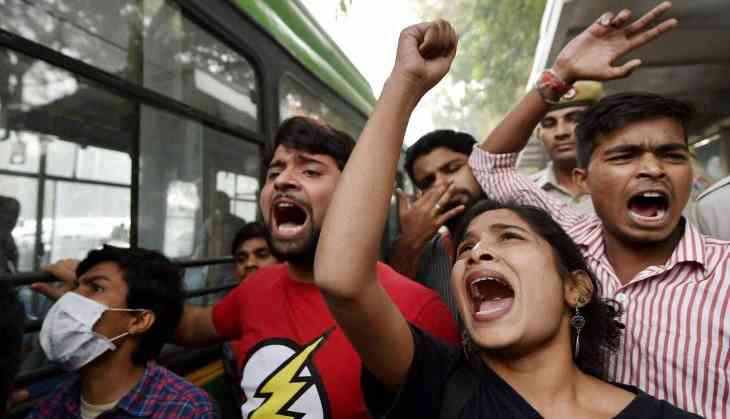 The protest held by the Jawaharlal Nehru University (JNU) against the 'lack of administrative action' against JNU Professor Atul Johri, compulsory attendance and other issues did not go well with the Delhi police as they resorted to lathicharge against the students who were marching from JNU to the parliament.
Reportedly journalists were also roughed up and manhandled by the police personnel and around 20 students were detained. The protest was organized by the Jawaharlal Nehru University Students' Union (JNUSU) and the Jawaharlal Nehru University Teachers Association (JNUTA).
""I was beaten up by the SHO; they slapped us. We were spared only after politicians reached the police station," said JNU student Sunny Dhiman, who was among those detained.
Many journalists faced the police repression. A reporter alleged that a male inspector groped her from behind while she was standing with her colleagues away from the clash sit.
The police also broke up the camera of a photojournalist from the Hindustan Times. "I was clicking a student being dragged when the police targeted me. They were talking about snatching and breaking my camera. I kept pleading with them to spare my camera," said Anushree Fadnavis, the photojournalist.
"The JNU vice-chancellor has become a chancellor of vices. A professor accused of sexual harassment has place in the varsity and being protected by the V-C," said CPI leader Brinda Karat, who was present at the march.
The protest was also against giving autonomy status to the university as students believe that the autonomy will lead the privatization of the university.
"The police assaulted many of the protesters. We were only marching ahead on the route pre-decided with the police. Granting autonomy to JNU means privatization of education and making education out of reach of poor students," said Geetha Kumari, president of JNU student Union.