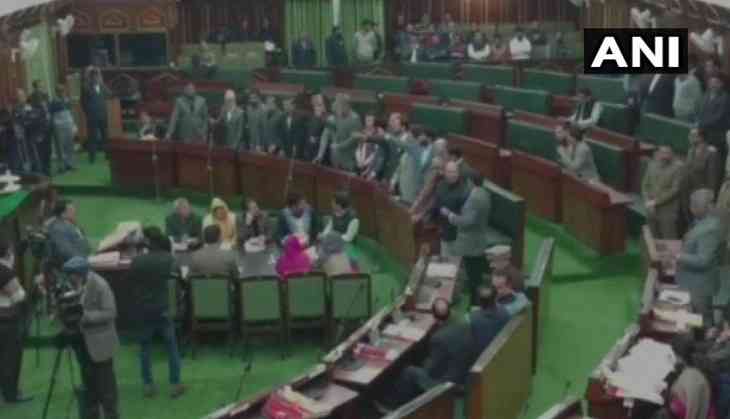 JKNPP activists staged a demonstration here today demanding immediate dissolution of the state Assembly to prevent any attempt of "horse-trading" to form a government.
In a surprise move, the BJP on Tuesday pulled out of the three-year-old ruling coalition with the PDP in the state that was placed under Governor's rule yesterday.
The Jammu and Kashmir National Panthers Party (JKNPP) activists carrying placard gathered at Exhibition Ground here and staged a demonstration.
The government has fallen and the Assembly has been placed under suspended animation which is totally wrong. The constitution states that if any of the political party is not in a position to form the government, the Assembly needs to be dissolved, JKNPP chairman Harsh Dev Singh told reporters.
The former minister, who was leading the demonstration, said his party will not budge and demonstrate till the state Assembly is dissolved and fresh elections are not announced.
In present situation, all the political parties have made it clear that they are not ready to form the government and only BJP leader Kavinder Gupta had said they are doing something an uncertainty has gripped the political circles about what the BJP is doing behind the scene, the JKNPP leader said.
The former deputy chief minister had yesterday reportedly said, "I don't think a new government will be formed anytime soon. Uncertainties are there, but we are working on something and people will get to know about it."
Singh said the people of the state especially the JKNPP would not tolerate any type of horse trading and corrupt practices for forming government.
We would like to appeal to Governor N N Vohra to dissolve the Assembly immediately, he said.
(PTI)