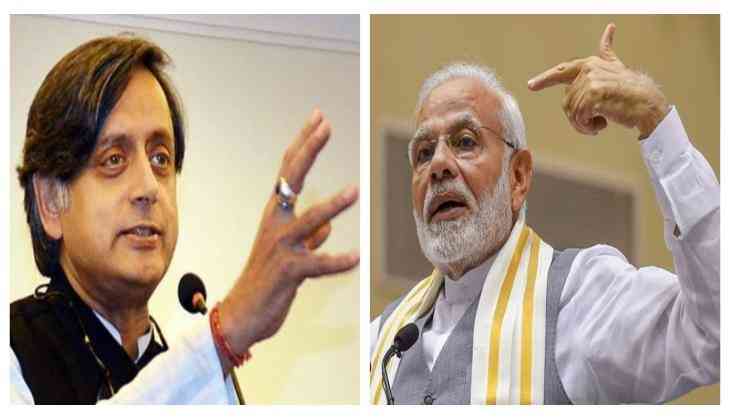 Congress MP Shashi Tharoor who is famous for his Tharoorian dictionary has triggered new controversies by passing an indirect comment on Prime Minister Narendra Modi.
He commented on PM Modi while praising the country's first Prime Minister Jawaharlal Nehru.
Tharoor said that it is because of the institutional structure set up by the Nehru that a 'chaiwala' (tea seller) can also become a prime minister of India. He said this while talking about Nehru on the occasion of his birth anniversary (14th November), which is celebrated as children's day in India.
"If today we have a chaiwala as prime minister, it is because Nehru ji made possible to create the institutional structures through which any India can aspire to rise the highest office in the land," he said.
He also added that "we've seen a consorted campaign of vilification, of calumny, astonishing amount of lies that are out there on the internet."
He also appraised Nehru for the Mars Orbiter Mission- Mangalyaan because it was Nehru who set up the Indian Space Research Organisation (ISRO), Tharoor said.
"If today the government can boast about Mangalyaan, ask who created ISRO." He also said that 'Who decided that even poor India could dare to aim for the skies? Who created the IITs that sent so many bright young men to Silicon Valley that 40 per cent of the startups there are helmed by Indians?"
He also took to Twitter and called PM Modi as 'The Paradoxical Prime Minister':
I came back to India in 2008 despite many options abroad because I love my country more than any other. And it's because i love my India that I criticise my government. I believe India deserves better. #TheParadoxicalPrimeMinister

— Shashi Tharoor (@ShashiTharoor) November 12, 2018
On Pandit Nehru's 129th birth anniversary, I am delighted to announce that my book #NehruTheInventionOfIndia will be adapted into a web series by #SheetalTalwar as the showrunner. #Onir #BhavnaTalwar to be series directors. https://t.co/W32lPDMcaA. https://t.co/BobSOx17UC

— Shashi Tharoor (@ShashiTharoor) November 14, 2018
Also read: PM Modi delighted to meet Twitter CEO Jack Dorsey and said, 'I enjoy being on this medium, where I've made great friends'