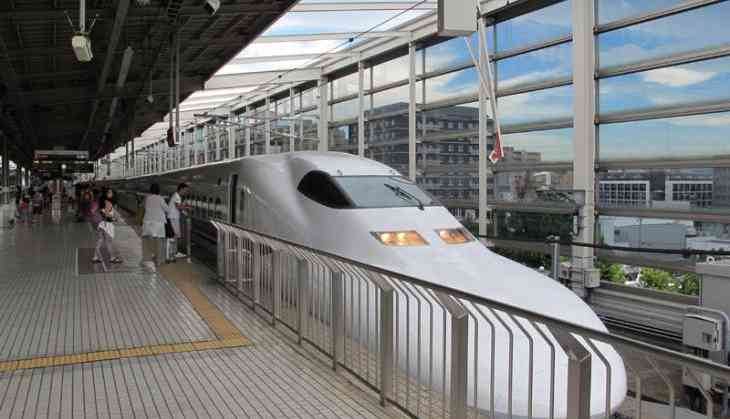 The Japan International Cooperation Agency (JICA) has signed an agreement with the Indian government to provide an Official Development Assistance (ODA) loan of 89,547 million Japanese Yen (approximately Rs 5,500 crore) as Tranche 1 on the 'Project for the Mumbai-Ahmedabad High-Speed Rail (MAHSR)' corridor, commonly known as bullet train project.
The objective of MAHSR is to develop a high-frequency mass transportation system by constructing the High-Speed Rail between Mumbai and Ahmedabad, using Japan's Shinkansen technology (Bullet Train), thereby enhancing mobility in India and contributing to regional economic development.

The Japanese state-owned funding agency has also signed another agreement to provide ODA loan of 25,903 million Japanese Yen (approximately Rs 1,600 crore) for building a metro rail system between Howrah Maiden to Salt Lake Sector V, including an underwater section, as a part of the 'Kolkata East-West Metro Project (III)', JICA said in a statement.
The Kolkata East-West Metro Project (III) will mitigate traffic congestion, reduce air pollution, minimize road accidents and make travel smoother for the people in Kolkata. The Project will connect Howrah Maiden to Salt Lake Sector V through Esplanade and provide an improved access to the public from the west gateway area to the central business district as well as the residential-cum-institutional complex areas.
Both the ODA loan agreements were signed between C.S. Mohapatra, Additional Secretary, Department of Economic Affairs (DEA), Ministry of Finance, and Katsuo Matsumoto, Chief Representative, JICA India.
"India has witnessed strong economic growth in recent years, and with this growth has come a sharp rise in the volume of passengers and goods being transported in the country. Both Maharashtra and Gujarat states have been the nation's growth drivers, and MAHSR is expected to further support such economic pulse as had the Shinkansen done for Japan. With this project, we aim to simplify mobility, ease connectivity and enhance regional economic development with a safe and reliable inter-city transport system," Matsumoto said.
The National High Speed Rail Corporation Limited (NHSRCL) is the Executing Agency of the MAHSR Project. A training institute, which will have the facilities and equipment to help trainees, will be set up so that operational and safety standards as well as the traveling experience will match the Shinkansen originals in Japan. Last year, in September 2017, JICA signed an agreement with India providing an ODA Loan of 10,453 million Japanese Yen (approximately Rs 640 crore) to develop a training institute at Vadodara, Gujarat.
Talking about the Kolkata East-West Metro Project (III), Matsumoto said: "Kolkata will be the first city to have an underwater section in its metro which will help connect both sides of the river-divided city, responding to the growing traffic demands. The metro line will cover the central business district area and residential cum institutional complex area of Kolkata thereby bringing ease of commuting. Kolkata is an old city with only 5.4 percent road volume and non-road based Mass Rapid Transit System (MRTS) system is best suited. JICA's cooperation will lead to the modal shift from road traffic to public transport system and will eventually lead to balanced regional development and improvement of environmental conditions."
The Executing Agency for the Kolkata East-West Metro Project (III) is Kolkata Metro Rail Corporation Limited (KMRCL). The project involves an ambitious tunnel crossing below river Ganges in between Howrah and Mahakaran stations which is the first transportation tunnel in India under any mighty river, the statement read.
The elevated portion is planned with the construction of piers mainly on the median of the road, while the underground section is planned with shield tunneling method by using tunnel boring machines and stations by 'cut and cover' method.
With signing of this third loan agreement for Kolkata metro project, the cumulative loan amount provided by JICA for metro projects in India (including Delhi, Bengaluru, Kolkata, Mumbai, Chennai and Ahmedabad Metro) exceeds 1.2 trillion Japanese Yen (approximately Rs 73,710 crore).
-ANI