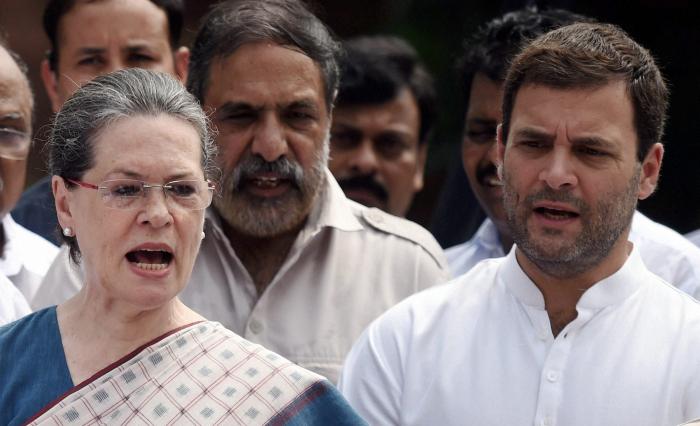 Leading the attack on opposition leaders for trying to 'fool the people', Home Minister Rajnath Singh led the clarion call for the Congress and other parties to apologise.
He told ANI: "You must have heard what David Headley has just said in Court, that Ishrat Jahan was a suicide bomber. Ishrat Jahan regarding whom so many accusations were cast on our leaders.
Tell me, will the accusing political parties now apologise to the nation for trying to fool the people?"
He also asserted that the revelations made by David Coleman Headley before a Mumbai special court has exposed Pakistan, adding that New Delhi would still prefer cordial relations with Islamabad. "I think Pakistan has been exposed. Even then, we would like to have a very cordial relationship with Pakistan," Singh told the media.
Deposing from an undisclosed location in the US, Headley had so far told the special court that the ISI was helping different terror outfits in Pakistan and was providing financial, military and moral support. Headley, who had conducted recce of the places in Mumbai which were attacked by 10 LeT terrorists on November 26, 2008, also revealed that the outfit had initially planned to attack a conference of Indian defence scientists in Taj Mahal Hotel.
He also said he had also conducted a recce of the famous Siddhivinayak Temple and Naval Air Station on directions of LeT commanders
Pakistani-American terrorist David Headley's deposition that Ishrat Jahan, who was killed in an encounter in Gujarat in 2004, was an LeT operative led to a political slugfest with BJP demanding that the Congress leadership should apologise for "targeting Narendra Modi over her killing at the cost of national security". BJP accused Congress of politicising the encounter as part of its "hate politics" against Modi, then Gujarat chief minister, and said if its chief Sonia Gandhi and her deputy Rahul Gandhi had any "shame" left, then they must apologise to the nation.
Police personnel who fought terrorists risking their lives were put behind bars by the then UPA government and security agencies like CBI and IB were politicised, party secretary Shrikant Sharma alleged, saying it was done to "defame and fix" Modi as part of a "political conspiracy".
"Headley's deposition that she was a LeT's suicide bomber has unmasked those who do politics over terrorism. We do not expect any morality from Congress. But if Sonia and her son Rahul Gandhi, who is a champion in politics of conspiracy, have any shame left, then they must apologise to the nation.
"They should apologise to the police personnel' families who had to suffer after they were put in jail for killing these terrorists in encounter. Congress and its allies linked terrorists with religion to mask their corrupt governance," he told a press conference.
Congress sought to dismiss BJP demands for an apology in the wake of David Headley's claims that Ishrat Jahan was an LeT operative, insisting that the "fundamental question" was whether she and her accomplices were killed in fake encounter.
Sharma also cited comments of Congress leaders questioning the Batla House encounter and their allusion to RSS hand in 26/11 Mumbai attack to attack the opposition party. "It has become clear that Congress played with national security. It is height of hate politics," he said.
Immediately after Headley's testimony, a battery of BJP leaders swung into action to attack Congress, claiming that its leaders dubbed Ishrat as a "martyr" only to "fix" Modi.
BJP cited a number of developments during the UPA's tenure, including "contradictory" affidavits filed in court over Ishrat case and NIA's reported decision to omit Headley's statement to it in which he allegedly said that she was an LeT terrorist, to argue that Congress used her killing to target Modi and Amit Shah, then a Gujarat minister and now party chief. Somebody had stated she was a college-going girl and somebody else said she was a martyr and all these people have been unmasked now, Sharma said.
It is clear that she and her associates were on a mission to kill Modi and attack religious places, he claimed.
BJP spokesperson Shahnawaz Hussain attacked the "secular brigade" and took a dig at Bihar Chief Minister Nitish Kumar for using Ishrat's killing as an issue during then Bihar polls by terming her a 'Bihar ki beti'. Another party spokesperson, Nalin Kohli noted that LeT had portrayed her as a "martyr" on its website but "government agencies at that time were put at war with each other and attempts were made at fixing individuals... instead of finding the truth".
--PTI