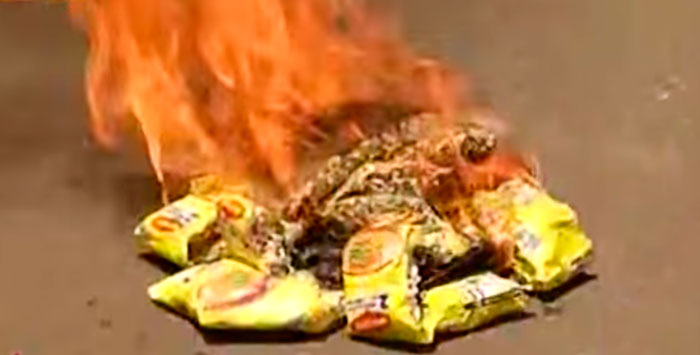 Nestle India is reported to have paid a hefty sum of Rs20 crore to Ambuja Cement for destroying Maggi packets. The packets of Maggi noodles will be taken to a Chandrapur plant in Maharashtra where they will be chemically destroyed in cement kilns, Nestle India media spokesperson, Himanshu Manglik has confirmed.
Wait, Maggi noodles with packets will be burnt? What of the environment?
"The packs of Maggi Noodles are mixed with fuel and subjected to high temperature thermal destruction in cement kilns. The process has been approved by the Indian government, and the fact that the noodles are being used for fuel reduces the environmental impact," Manglik told Catch.
This, of course, begs the question whether 'reduction' of environmental impact is good enough. Considering the fact that the noodles are being destroyed because they were deemed harmful for human consumption, the packets being burned whole with the plastic intact, comes as a bit of an ironic twist.
How much money will the whole thing really cost?
The other interesting, and arguably shocking, aspect of this announcement is the average worth of the stock being destroyed. "The estimated 'Sales Value' of the stock in the market, including those with our trade partners, is around Rs210 crore (2.1 billion). In addition, there were Maggi Noodles and related materials in our factories and distribution centres when the withdrawal was announced and the estimated value of these is around Rs110 crore (1.1 billion). These are broad estimates because it is impossible to calculate the final figure while the withdrawal is taking place," Manglik said. That total alone amounts to a whopping Rs320 crore (3.2 billion).
But wait, Nestle India isn't done yet. There will be additional costs the company needs to take into account. They need to locate the stock and bring it from the market, transport it to the destruction site, and finally destroy it. "The final figure will have to be confirmed at a later date." Manglik stated.
However, Manglik did not confirm the Rs20 crore deal with Ambuja as reported by PTI. "We are not in a position to comment on contract details with Gujarat Ambuja Cement which is one of the locations helping us to destroy the Maggi Noodles that are being withdrawn from the market."
What started it all?
The extreme measure on the part of Nestle India to seek help from Ambuja Cement comes after the central food safety regulating body FSSAI banned it on 5 June, 2015 due to the presence of lead and taste enhancer monosodium glutamate (MSG) exceeding the permissible limits. Meanwhile, Nestle India is still fighting its cause by challenging the ban order in the Bombay High Court.