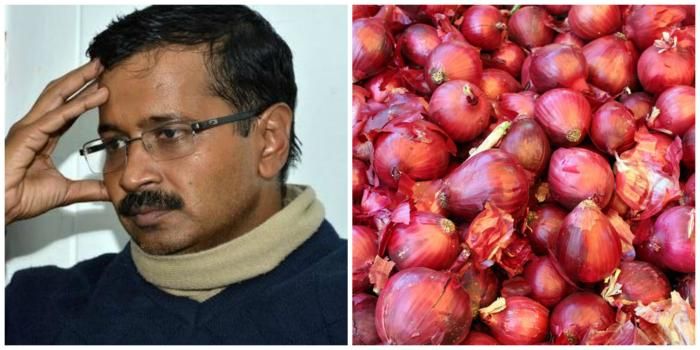 Seven months into its term, the Aam Aadmi Party is facing its first corruption allegations that has been dubbed the Onion Scam. Onions have always been a sensitive issue in Delhi. Elections have been lost and won over this indispensable kitchen ingredient of India.
Delhi saw a steep rise in onion prices last month. They were selling for as high as Rs 80 per kg. The retail price for onion hasn't gone down yet.
But the allegations against the Arvind Kejrwal government is not merely confined to its inability to bring down the prices.
What are the allegations?
1. Selling of onions at a far higher prices than procurement cost
The first allegation is that the government procured onions from markets of Nashik in Maharashtra and Indore in Madhya Pradesh through Small Farmer Agri-Business consortium at far lower prices and sold them at a huge profit margin. According to a Mail Today report, an RTI response from Delhi government's Department of Food Supplies and Consumer Affairs says that the government had purchased 2,511 metric tonnes (25,11,000 kgs) of onions at an average price of Rs 18.57 per kg. This also includes cess and other local expenses.
When the onion crisis aggravated in the Capital on 5 August, the Delhi government claimed to sell onions at a no-profit-no-loss basis through its vans. However, According to Nafed, Delhi government sold onions at a much higher price of for Rs 30/kg. Now, the National Agricultural Cooperative Marketing Federation of India Limited (Nafed) has questioned the AAP government as to where the profit margin on 25 lakh kgs onion has gone.
2. Not procuring enough onions and at the right time
Another allegation against the AAP government is that it deliberately allowed prices to shoot up by not procuring onions at the right time. The Kejriwal government began the sale of subsidised onions on August 10. Despite having a buffer stock of 5,000 metric tonnes, the Delhi government could sell only only 575.32 metric tonnes of onions till September 2.
So at a time when Delhiites were grappling with a steep increase in onion prices, godowns were holding more than 4,400 metric tonnes of onions. As a result, prices, after surging to Rs 80/ kg, never came down below Rs 60/kg despite the government's assurances.
What is the Delhi government saying?
The Delhi government has denied any financial bungling on its part. "If there is any irregularity, it is on part of the Central government agencies like Small Farmer Agri-Business Consortium (SFAC) and Nafed. Delhi's Food and Supplies Minister Asim Ahmed Khan was quoted by Mail Today as saying: "The actual procurement cost is Rs 32.86 per kg. Owing to transportation and labour expenses, it shot up to Rs 40 per kg. The AAP government then decided to subsidise the onion price by another Rs 10 per kg and decided to sell them at Rs 30 per kg."
Reacting to the reports, Deputy Chief Minister of Delhi, Manish Sisodia in a Facebook post said: "Central govt agency SFAC provided onions at Rs 32.86 per kg. False propaganda is being run that Delhi govt purchased onions from Nasik. This is a desperate attempt to defame Delhi govt without checking facts. Onions are purchased, stored & transported by central govt agency SFAC."