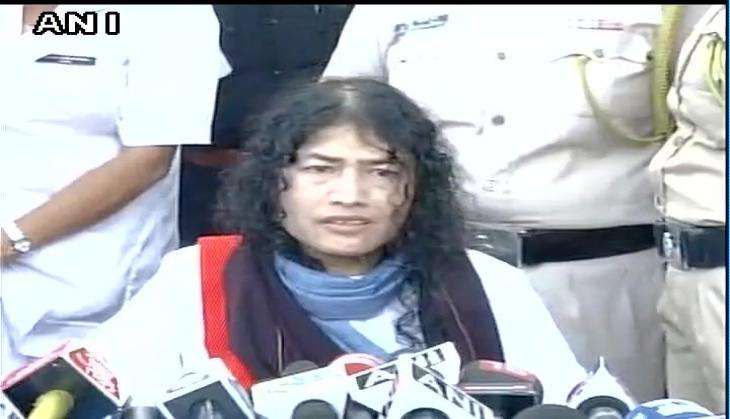 Manipur's 'Iron Lady' Irom Sharmila ended her 16-year-old fast, the world's longest hunger strike, on 9 August but has not met her mother yet.
Even after breaking the hunger strike, the Iron Lady is maintaining her resolve to not clip her nails, comb her hair, go to her house and meet her mother till the Armed Forces (Special Powers) Acts (AFSPA) is repealed.
On 5 November 2000, when she took a vow to start an indefinite hunger strike till the government repeals the AFSPA, which gives armed forces immunity against prosecution for their actions, her protest had multiple dimensions which went beyond not consuming food and water.
The toughest one was not to go home and meet her 84-year-old mother Shakhi Devi until the AFSPA has been revoked.
Sharmila has not visited her house at Kongpal Kongkham Leikai, on the edge of Imphal city, even once all these years.
Despite breaking her fast with a dab of honey yesterday, the 44-year-old 'Satyagrahi' made it clear that she would not go home until AFSPA is repealed and preferred to stay in an ashram till then.
According to her associates, Sharmila didn't meet her mother during the fasting period to avoid any emotional outbursts.
Her elder brother Singhajit said their mother is waiting for the moment of her victory which will come only when AFSPA is repealed.
Despite living only a few metres away from each other, the duo has met only once in all these years when Shakhi was admitted to Jawaharlal Nehru Hospital, where Sharmila was force-fed through nasal tube and kept under detention by the police for attempt to suicide.
Singhajit recalls when their mother had slipped into coma in 2009 after an asthma attack.
"Sharmila feared death and so she managed to sneak into her mother's ward in the same hospital at midnight. When she came very close to the mother's face, suddenly she was in her senses. But our mother ordered her to go back immediately," he said.
The iconic civil rights activist left the place like an obedient child without arguing.
"Come to me after winning. I am waiting for that moment when you will come home and cook food for me," Singhajit quoted their mother as having told his sister, who is the youngest of her nine children.
He said even now their mother sticks to what she had said at that time.
Her associates said Sharmila has since then, not clipped her nails.
"She became very weak and so the nails became brittle and broke, grew again and fell down again. She never clipped them even if they hurt her," they said.
The remrkable woman also refused to comb her hair or even look at the mirror.
"She was abstaining from a lot of pleasures in life," Singhajit said.
-With PTI Inputs