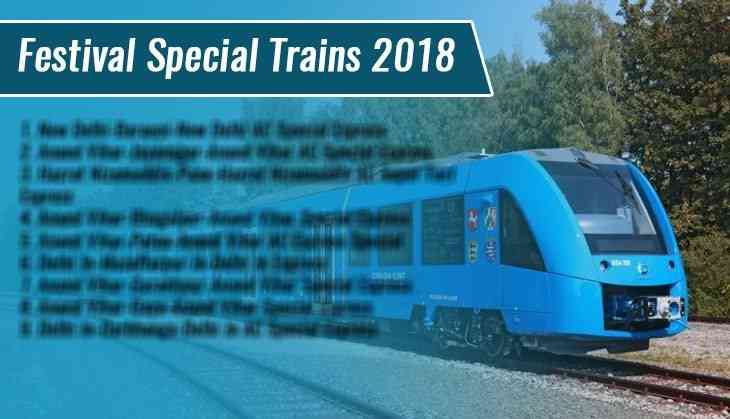 Indian Railway Catering and Tourism Corporation (IRCTC) is trying its best to provide the facility to its passengers this festival season. During the festive season, the rush in Indian Railways always one of the biggest issue for the commuters who go their homes to celebrate the festival. Keeping in view for the upcoming festival like Diwali and Chhath Puja, Indian Railways has announced for some special trains for its passengers.
Indian Railways has released the list of special trains and their routes. With this facility given by Indian Railways, passengers can travel to their destination without any tensions during this rush period.
Passengers can book their ticket either through ticket counter or via online mode by visiting the official website of IRCTC at irctc.co.in.
More Festival Special trains by NRly on various popular rail corridors... pic.twitter.com/t0wnkrc0Uz

— Northern Railway (@RailwayNorthern) October 13, 2018
The special trains will run on the routes like Delhi, Anand Vihar and Hazrat Nizamuddin to Gorakhpur, Darbhanga, Gaya, Barauni, Bhagalpur, Muzaffarpur, Jayanagar, Pune and Patna.
Check out the list of special trains along with their routes:
1. New Delhi-Barauni-New Delhi AC Special Express
2. Anand Vihar-Jayanagar-Anand Vihar AC Special Express
3. Hazrat Nizamuddin-Pune-Hazrat Nizamuddin AC Super Fast Express
4. Anand Vihar-Bhagalpur-Anand Vihar Special Express
5. Anand Vihar-Patna-Anand Vihar AC Express Special
6. Delhi Jn-Muzaffarpur Jn-Delhi Jn Express
7. Anand Vihar-Gorakhpur-Anand Vihar Special Express
8. Anand Vihar-Gaya-Anand Vihar Special Express
9. Delhi Jn-Darbhanga-Delhi Jn AC Special Express
These trains have been run by the Indian Railways as the festival special train 2018. To know the more information like train number, seat availability, waiting list or any other about these above trains, passengers can visit the official website of Indian Railways or can also check on the official application.
Also read: IRCTC Offer: This Diwali, Chhath Puja book online general tickets from 1st November only at irctc.co.in