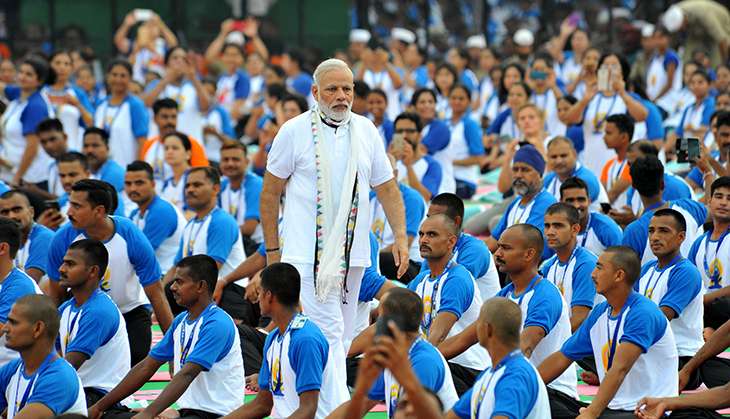 On the occasion of the second International Yoga day on 21 June, Prime Minister Narendra led over 30,000 people in a mass yoga demonstration at Chandigarh.
Differently-abled persons, ITBP personnel, Punjab Armed police personnel, Punjab University students and school children were among the participants at Capitol Complex.
Dressed in a white-coloured t-shirt, white trousers and a scarf, PM Modi encouraged the gathering to include yoga in their daily lives. He said that the ancient spiritual discipline could help cure afflictions like diabetes.
Here are a few of the best lines from PM Modi's address at Capitol Complex:
"Make yoga a part of your life. Just as the mobile phone is now a part of your life, make yoga too a part of your life."
"Yoga is not about the other life. Therefore, it is not a religious practice. It is the science of this world, it is about what we will get in this life,"
"We did not have health insurance in olden times. But Yoga is a practice which gives health assurance with zero spending.
"There are countries around the world which have 24 hours dedicated TV channels for Yoga".
We are disconnected from ourselves in today's times. Therefore, Yoga helps us in reconnecting with ourselves.
He urged practitioners and trainers to use Yoga to cure diabetes:
"I want to request trainers who are associated with yoga, from this public platform. From next year when we celebrate yoga day, in this one year, you continue to do what you do for yoga but focus on one subject and this is my subject - diabetes - Diabetes and yoga."
"All people belonging to the yoga field, whatever knowledge they have, they must continue with the rest of their yoga activities but this (diabetes) must be the main focus."
"In India, patients suffering from diabetes are rising... It will be an achievement if we can help in treating diabetes. From next year, we can take another disease. But I want that for good health, we should address any one disease every year. We should run a public campaign with an aim to address one disease."
He also announced the central government's plans to announce two awards. "One at the international level for those putting in excellent work in the field of yoga and the second one for those working in the field within the country. One International Yoga Award and the second National Yoga Award," PM Modi said.
After performing Yoga with the crowd, PM Modi interacted with the people at the event. Some of them also took selfies with the Prime Minister.