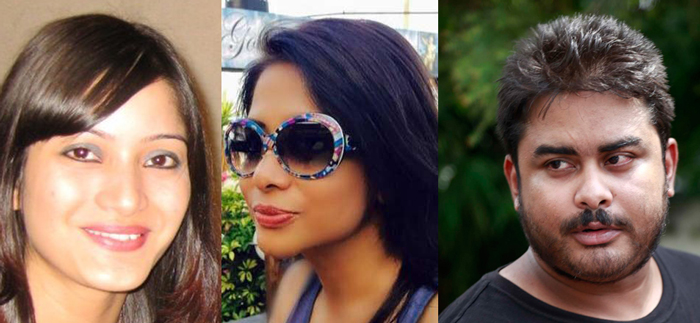 In a fresh twist to the sensational Sheena Bora murder case, a birth certificate which was issued from Guwahati which names Sheena's Grand parents Upendra Nath Bora and Durga Rani Bora as her father and mother were handed over a team of Mumbai Polcie by Sheena's brother Mikhail Bora. This revelation shows there was a definite plot behind Indrani claiming her daughter as 'sister'.
Mikhail Bora has further alleged that even he was on the 'target list' of his mother and her associates and that she has threatened him several times. Senior police officer Kedar Pawar along with another officer from Mumbai police today met accused Indrani Mukerjea's son Mikhail Bora in Guwahati, later he came to the local police station and handed them over to Mumbai Police. These documents might be crucial for the investigation of this sensational murder case.
"My evidence is the conversation between Indrani Mukerjee and Sheena, I've some evidence on that. Plus I've some photographs which reveals that how was the relationship between these three guys (Indrani,Peter and Sheena), including Rahul which I can show you through a photograph as an evidence. I'm waiting for the police" Mikhail told Catch news on Thursday afternoon.
"Indrani forced me to shift to Kolkata, she lured me a good job and wanted to shift my grandparents to an old age home in Mumbai," he further stated.
Mumbai Police stayed about an hour at the Duplex apartment of Sheena's grandparents. According to Assam Police sources, Mumbai police official informed the case to Sheena's grandparents and spoke at length with Mikhail. Mikhail was interrogated for about three hours in Dispur Police station.
Among the documents handed over to Mumbai Police, there is a birth certificate which Assam Police sources claim to be a 'forged' one. Although Sheena was born in 1989, the certificate handed over by Mikhail was issued in 2002, sources added.
"The certificate has serial number 013244, has name of father as Upendra Nath Bora and name of mother as Durga Rani Bora. The registration number is 5409" the Assam Police source added saying that if seems with this documents Indrani might have forged other documents of Sheena to hide her real identity.
Meanwhile, Sheena's school teachers remembered her as a 'good and decent student'. The Disneyland School (now the name has been rechristened to Sudarshan Public School) where she studied for ten years however could not furnish her records since the school has lost old records due to floods.
"She was very pretty as a kid, smart and bright. I knew her from class 1. I still remember her cute face. I wonder how a mother can kill her own child. It's a shame on humanity. I am in shock"" says Kalpana Dasgupta who taught Sheena in the primary section.
Her friends in Guwahati have revealed that Sheena did tell them about her trouble with her mother in bits and pieces. "We never saw her parents. Her grant parents used to come and leave her and pick her from school" said Sheena's class mate Palbon Buragohain.
Disneyland High School remembers her as a good student and active in co-curricular as well.
"We have heard that there was some trouble within their family. She never spoke much about her mother" said another friend Indrajit Bharadwaj.