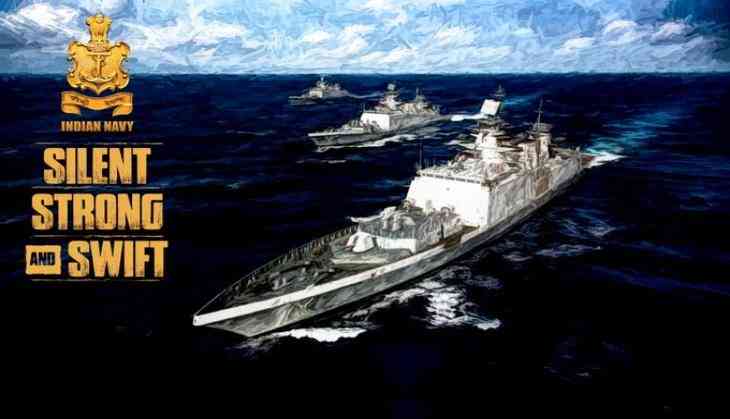 On December 4, India is celebrating its 48th navy day and reminding the sacrifices, the valor of Navy force personnel and also commemorating the victory of India over Pakistan in 1971 war.
The date reminded us of the launch of Operation Trident that took place in the year 1971. Indian Navy successfully attacked the Pakistani Naval Headquarters in Karachi.
Nearly 300 soldiers died and 700 were injured in the attack.
The operation is one of the successful operations of the Indian Navy in the post-World War II era.
The attack was carried out at night as intelligence was assured that Pakistan didn't have aircraft that could carry out bombings at night. Operation Trident brought a big success for India as no loss of life was incurred during the attacks on the Indian side.
On the other hand, the maritime power damaged five Pakistani sailors and over 700 Pakistani personnel were injured in the attack.
The mission was planned under the leadership of Admiral Sardarilal Mathradas Nanda and masterminded by then Fleet Operations Officer of the Navy Gulab Mohanlal Hiranandani. They decided to launch attacks on the Karachi harbour with missile boats. Notably, the Karachi Harbour was not only the Pakistani Navy's headquarters but was also oil storage.
To celebrate the 48th Indian Navy Day, political leaders and other public figures have poured-in their wishes on Twitter.
Here's what leaders have written on their micro-blogging accounts:
Warm greetings to our Navy personnel and their families on Navy Day.

Indian Navy is an epitome of valour and courage. We salute our Navy for their unparalleled role in securing our nation and providing relief during trying times and natural disasters. pic.twitter.com/VwhHqxfWf1

— Amit Shah (@AmitShah) December 4, 2019
"#NavyDay greetings to the personnel & veterans of the @indiannavy. They defend us in times of peace, times of war, and times of crisis. On this occasion, Kerala remembers their service during the floods of 2018. 
We honour you not just today, but everyday."- CM Pinarayi Vijayan https://t.co/FnnHUfohMt

— CMO Kerala (@CMOKerala) December 4, 2019
On #NavyDay, we salute Indian Navy for their fearless & selfless sacrifice and are proud of our valiant Navy personnel for serving our motherland with utmost devotion. pic.twitter.com/oWuUdAwbL7

— Piyush Goyal (@PiyushGoyal) December 4, 2019
On the occasion of #NavyDay, the Chief of the Naval Staff & all Ranks of #IndianNavy extend warm greetings to all our countrymen.
This day celebrates #IndianNavy's spectacular show in the 1971 war.We also use this day to renew our pledge to #ServetheNation with utmost dedication. pic.twitter.com/ECy27IAKS3

— SpokespersonNavy (@indiannavy) December 4, 2019
On the Navy Day, I convey my best wishes and greetings to all the @indiannavy personnel and their families.

The nation has unwavering faith and pride in the Indian Navy. It is the manifestation of India's maritime power. We salute their indomitable courage and valour.

— Rajnath Singh (@rajnathsingh) December 4, 2019
Indian Navy epitomises bravery and service to the nation. I salute the bravery and patriotism of the Indian Navy on the occasion of #NavyDay pic.twitter.com/MA21jvuZPb

— Ravi Shankar Prasad (@rsprasad) December 4, 2019
This day in 1971 our fellow brothers of @indiannavy launched 1 of the deadliest naval operation of history-Op Trident & shattered Paki naval base & ships.
Heartfelt salute,respect and gratitude to our naval warriors on occasion of #IndianNavyDay
We are Proud of You💪Jai Hind🇮🇳 pic.twitter.com/fMcfgPkwr5

— Major Surendra Poonia (@MajorPoonia) December 4, 2019
On Navy Day, my good wishes to all officers and men and women of the Indian Navy.

Nation is proud of your commitment in protecting our maritime frontiers, securing our trade routes, and providing assistance in times of civil emergencies.

May you ever rule the waters. Jai Hind!

— President of India (@rashtrapatibhvn) December 4, 2019
शं नो वरुणः

On this #NavyDay, I extend my deepest gratitude to all the women and men of @indiannavy. My best wishes to each one of them on this day as they protect our motherland making the countrymen proud.#IndianNavyDay pic.twitter.com/4pPabdbRq7

— Shivraj Singh Chouhan (@ChouhanShivraj) December 4, 2019
On #NavyDay I salute the valour, courage & conviction of the brave sailors guarding our waters. All of India is indebted to the @indiannavy for their selflessness, indomitable spirit & sacrifice. Jai Hind!! pic.twitter.com/FBsgpGj99c

— Vijay Kumar Singh (@Gen_VKSingh) December 4, 2019
Greetings on Navy Day. 

Silent, Strong & Swift, @indiannavy has guarded our water frontiers with courage & fortitude. I was JS-Navy during my posting in MoD. So, I am particularly proud to witness the evolution of our Navy into a professional, modern & well equipped force. pic.twitter.com/YOnpNQHqrn

— Hardeep Singh Puri (@HardeepSPuri) December 4, 2019
Today in 1971, Indian Navy launched Operation Trident. Indian Naval ships blew up the Karachi harbour. Many ships were destroyed & damaged.

Today is celebrated as Navy Day. Congratulations, India.@indiannavy much respect 🙏

— Major Gaurav Arya (Retd) (@majorgauravarya) December 4, 2019
Send your wishes on this Indian Navy Day on our Facebook page...
Watch short-video shared by Doordarshan, showing maritime power: