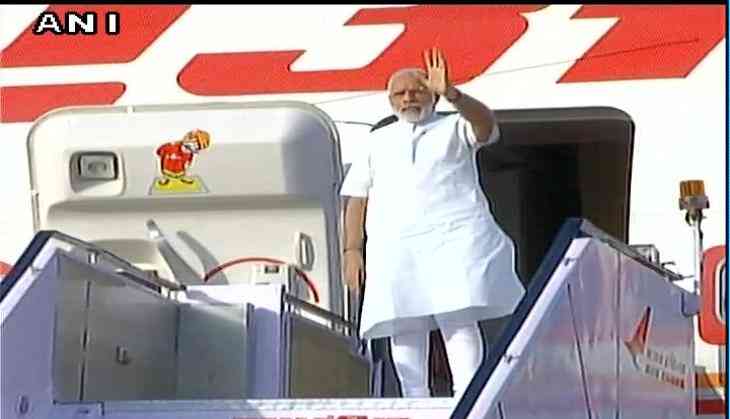 As Prime Minister Narendra Modi was about to arrive at the Andrews Air Force base here, the Indian diaspora seemed excited and all set to render a warm welcome to him, who is on his fourth visit to the U.S. capital.
Few Indian expats reached the Andrews Air Base hours before Prime Minister Modi's arrival to welcome him.
"We are here to welcome the Prime Minister. We will be delighted to meet him," said an expat.
Lauding the Prime Minister Modi for his work, another said he was excited to welcome him.
"We expect a lot from Prime Minister Modi. We think he is a great leader. So I came to see and meet him," he said.
"I am here to meet Modi Ji. I am follower of Bharatiya Janata Party (BJP). It will be a great pleasure to meet him," another expat said.
Prime Minister Modi would be the first world leader to have a working dinner with U.S. President Donald Trump at the White House on Monday.
Speaking ahead of the visit, India's Ambassador to the U.S., Navtej Sarna, said that Prime Minister Modi and President Trump would discuss crucial issues such as counter-terrorism, security and cyber security.
The upcoming meeting, which is deemed to be one that can significantly strengthen bilateral relations between the two democracies, will also include an interactive session with the Indian-American community as well as 20-odd top CEOs in Washington.
Meanwhile, White House Press Secretary Sean Spicer said that he is expecting a very robust discussion to take place between the two leaders.
Meanwhile the U.S. President has announced that he has important issues to discuss with his 'true friend' Indian Prime Minister Modi.
Ahead of Modi reaching Washington D.C. for a state visit, the President tweeted, "Look forward to welcoming India's PM Modi to @WhiteHouse on Monday. Important strategic issues to discuss with a true friend!".
-ANI