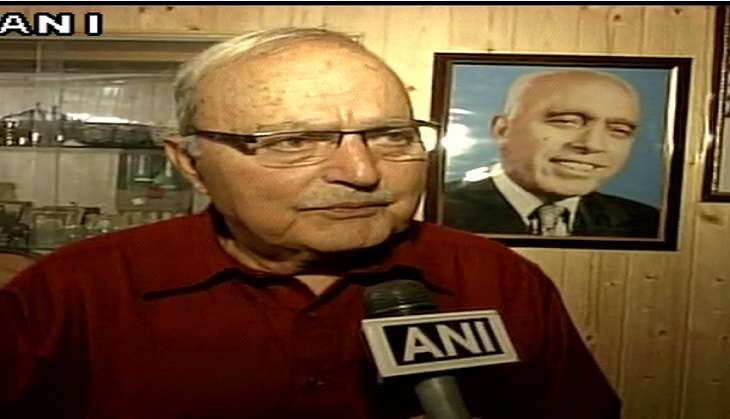 Mustafa Kamal, a leader of the Opposition National Conference party in Jammu and Kashmir today said India has violated the sovereignty of Pakistan by allowing the army to conduct surgical strikes across the Line of Control (LoC).
"The Director General of Military Operations (DGMO) of our country has given a Press Conference in which he has said the Indian Army has carried out surgical strikes across the (Line of Control) LoC. Reportedly, on militant training camps along the LoC in which a large number of militants.. At the outset, this aggression, not to give it a sweeter word of saying 'surgical strike', they have violated the sovereignty of Pakistan, under whose administrative control the other side is, the PoK (Pakistan Occupied Kashmir) is," Kamal said.
"This has the potential of a full scale war between the two, which will be very unfortunate, not only for us here in Jammu and Kashmir, for the country India, and the country Pakistan. I am sure the countries of the world, especially the power blocks, they will definitely have something to say on this issue," Kamal added.
Pondering on the genesis of militancy in Kashmir, Kamal said, "Unfortunately, this is the story that has been circulated that India is facing militant threats. Militancy was born in J&K in 1989-90 and it was entirely an effort on our side."
"As borne out by a letter that has been written by two dozen prominent Kashmiri Pandits, dated 22nd of September, 1990, after the exodus took place, they have clearly said Jagmohan made Kashmiri Pandits scapegoats and apologised to Muslims of Kashmir for having left them in distress. This is the latest and the clearest proof that Pakistan has taken advantage of militancy that was created within the country and the Kashmiri Pandits have named Mufti Mohammad Sayeed, Jagmohan and a few others who instigated their exodus, who brought militancy here," he said.
"Countrymen deserve to know the truth. The world deserves to know the truth, and our working President, Omar Abdullah, he said in Parliament there should be a Truth Reconciliation Commission to go into the genesis of militancy. Why hasn't the government constituted this commission?" Kamal asked.
He concluded by saying, "India is a peace loving country, as said repeatedly. This is the first time, we find, they are the aggressors."
-ANI
Also read:Indian Army's surgical strikes: Two sides of the story, according to India and Pakistan
Also read:People are frantically Google-ing 'Surgical strike'. Here's what it means