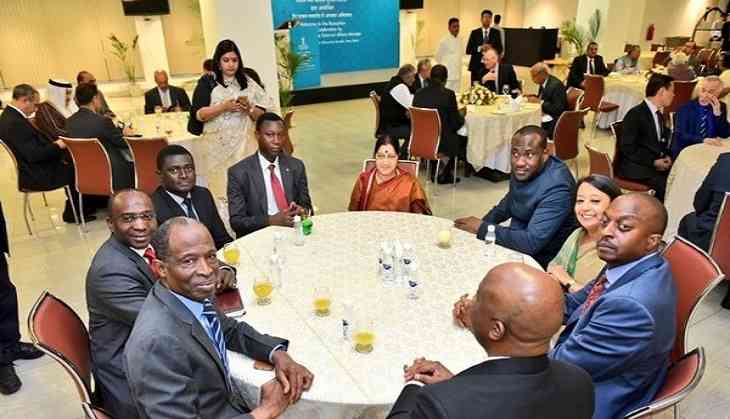 External Affairs Minister Sushma Swaraj asserted that India will never allow the forces of hatred and violence to come near its people.
The External Affairs Minister, while addressing an Eid reception hosted for envoys here on Tuesday, said, "We will never allow the forces of hatred and violence come anywhere near our people, and disrupt our societies,"
Swaraj further noted that like any religious festival in India, Eid-ul-Fitr too brings together people of all faiths, and is celebrated with great fervor.
"Whether Deepavali or Christmas or Baisakhi or Navroze or any other, Eid-ul-Fitr too brings together people of all faiths. India is home to one of the largest population of Muslims. Our celebrations of Eid are as diverse as our regions, languages, cuisine, and traditions, as vibrant as our clothes and festivities, and as sweet as our traditional meeti sevaiyan and a host of savoury dishes," she noted.
Hailing the month of Ramzan as a "test of inner strength", Swaraj noted that the holy month is a time to cleanse one's behavior and outlook on life.
"The Holy month of Ramzan has just ended. Our Muslim brothers and sisters all over the world have observed this month as the month of fasting, with a pre-dawn meal of SUHOOR and ending the fast every day with IFTAR. But apart from abstaining from eating and drinking, it is also a month of abstention from worldly temptations. It is a month for sacrifice and charity, bringing out our innate empathy and selflessness towards those who are less fortunate than us," she said.
Sushma also reiterated the concept of Vasudaiva Kudumbakam at the occasion, while quoting King Abdullah II of Jordan.
"It was wisely said, the world is one family.. Compassion, mercy, tolerance - these values are shared by billions of Muslims and non-Muslims around the world. And these values require us, together, to act for our common future. Just as His Majesty referred to One Global Family, we too, in India have grown up believing that the world is indeed one family. The concept of is ingrained in our ethos."
(ANI)