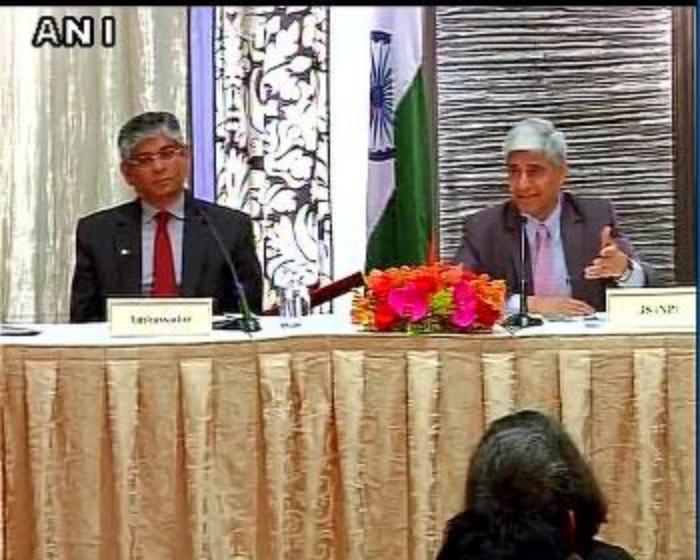 Introducing a new irritant into the bilateral ties, Pakistan has complained to UN Security Council alleging that India was building a wall along the Line of Control or LoC in violation of the world body's resolutions.
Pakistan's Ambassador to UN Maleeha Lodhi, has in a letter to the President of the UN Security Council, Russian Ambassador Vitaly Churkin, alleged that India was planning to construct a 10-metre high and 135-feet wide embankment or wall along the 197-km Working Boundary between Jammu and Kashmir and Pakistan.
The planned wall, according to Pakistan, was to convert the LoC "into a quasi international border".
India did not immediately react directly to the allegation, but described the contents of the two letters written by Ms Lodhi on Sept 4 and 9 as "contradictory".
India would respond to these claims "at the appropriate time", Ministry of External Affairs (MEA) spokesperson Vikas Swarup told reporters in United Nations.
Prime Minister Narendra Modi and his Pakistani counterpart Nawaz Sharif are staying in Hotel Waldorf Astoria in New York, but Islamabad's attitude, as reflected in Ms Lodhi's letters, appear to have diminished further any prospects of a meeting between the two leaders on the sidelines of the UN General Assembly.
The first letter dated September 4 states that there was no bilateral dialogue. India has disputed it saying that the top officials of the Border Security Force and Pakistan Rangers have already met.
"So that letter is contradictory in itself that there is no dialogue. There has been a dialogue," Mr Swarup said.
In the September 9 letter, Ms Lodhi expressed "deep concern" over the alleged wall plan on a "submission" made by Hizb-ul-Mujahideen chief Syed Salahuddin, who has been described by India as a "global terrorist".
"I believe the second letter (dated September 9) is based on some kind of submission made by Salahuddin, who is a person that we consider to be a global terrorist. At the appropriate time we will respond to this," Mr Swarup said.
In the letter, Ms Lodhi said that Pakistan "considers the embankment a permanent structure that will bring about a material change in the territory in violation inter alia of... Security Council Resolution...of 1948.
"The State of Jammu & Kashmir is internationally recognised disputed territory with a number of United Nations Security Council resolutions on the official status of Jammu & Kashmir awaiting implementation," Ms Lodhi said.
Mr Swarup said, "Has any action been taken by the UN on these letters? That is the first question. If there is action taken by the UN we will respond appropriately. If there is no action taken by the UN then this will mean that nobody has taken cognisance of the letters."
-- PTI