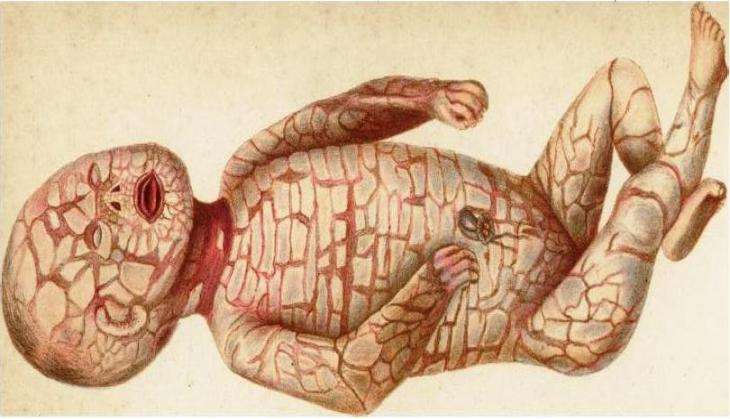 A female infant with a severe genetic disorder and missing near-total external body skin was born in Nagpur early on Saturday, a doctor said.
"It's the first 'Harlequin Baby' in the country. The infant is born blind and the chances of her survival are uncertain," said paediatrician Dr Yash A. Banait, who was involved in the rare delivery along with obstetrician-gynaecologist Dr Prachi Dixit, reported The New Indian Express.
The infant was born with skin missing from large parts of her body making her internal organs visible. Her palms, fingers, and toes have barely developed.
The baby, born around 12.45 am at Lata Mangeshkar Hospital, is the first child of farmer-couple from Wadi and is currently in the Neonatal intensive care unit (NICU) undergoing a series of tests and investigations conducted by a team of medicos.
Dr Banait said such children have severely cracked skin which makes it difficult to maintain body temperature and they become prone to infections.
According to renowned paediatrician Dr Avinash Banait, there was a similar case in Bastar, Chhattisgarh in 2014, but it would not be medically proved.
There have been only around dozen-odd cases of such disorder in medical history since 1750.
The first such child was born in April 1750 in South Carolina, US, and there are reportedly around a dozen such cases recorded in the country.
One such child Nusrit Shaheen was born in 1984 to a Pakistani woman and four of her children had the same disorder and succumbed at an early age.