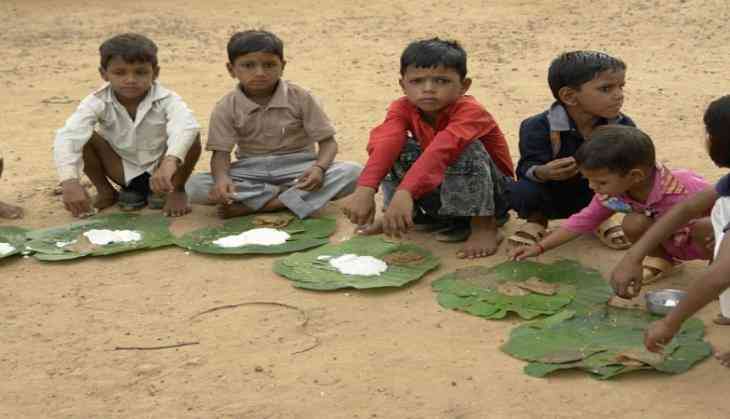 On March 29, 2017, Jharkhand Chief Secretary Rajbala Verma issued a letter making the Aadhar Card mandatory from April 2017.
It was also stated in the letter that those users who do not have Aadhaar card at the district/state level should be encouraged to make it and also to link it with their ration cards. It was also stated that ration cards not linked to the Aadhaar card would be cancelled.
After this order, the Public Distribution System (PDS) shopkeepers who provided the ration stopped giving ration to those whose Aadhaar card was not linked to their ration card. As a result, PDS shopkeepers refused to give ration to Koyle Devi because of which her daughter Santoshi died due to hunger on September 28, 2017.
The child died in her arms crying with hunger, "BhaatBhaat" (Rice Rice). According to Koyle Devi, her family had not eaten food for the past four days.
It was difficult for a woman earning barely three to four hundred rupees per month by selling dantoon to arrange for food for the entire month. The father of mentally ill Santoshi was unable to do work as a daily wage labourer. For this reason, Koyle Devi used to buy rice from a ration shop at a rate of one rupee per kilogram from her earnings.
But after the government order, ration dealers stopped giving ration to her. Due to non-receipt of ration, the family of Koyle Devi was forced into starvation. 24 hours before her death, Santoshi complained of stomach ache. But after the government investigation, Simdega's DC said that the cause of Santoshi's death was malaria.
The second incident of hunger death occurred in Jharia Dhanbad. 40-year-old Baidyanath Ravidas was working as a rickshaw puller. Due to his name being cut from the BPL (below poverty line) list and the cancellation of his ration card, the condition in his house had certainly become a matter of grave concern.
Due to the nature of his job and an empty stomach at most times, his body was taking a heavy toll on him, Badyanath was forced to take bed rest and never got out of bed.
According to the surviving family members, no food had been cooked in the house in the last eight days. According to the unemployed son Ravi, "It was difficult to meet the house expenses by riding a rickshaw. Dad was ill for two months; if we had to have a ration card my father would not have died."
In just one month's time, the third incident of death due to hunger took place in Devghar. Roop Lal Marandi, 62-year-old resident of Devpur, District Devgarh under Santhal Paraganas died on 23 October 2017 due to hunger.
According to Malondi Marandi, the daughter of the deceased, there was not a grain of food available at home. Roop Lal had been hungry for many days, because he could not get the ration for September and October as his thumb impression could not be identified on the biometrics machine and so the dealer refused to give the ration.
For two days, there was no food cooked in the house; they were merely surviving on the food being given by their neighbours. According to Malondi, "Due to hunger, my father's health had worsened, the rice brought from our neighbour Naval Kishore Hembram was made into Maadbhaat (Watery Rice) and eaten by my father".
Dealer DharmDev Chaudhary clarified that in the ration card, the thumb of Malondi, the daughter of the deceased, was illegitimate; hence she was not given ration in September and October while in August the ration had been given.
On the deaths due to hunger in Simdega, Devghar and Jharia, Dhanbad, State Food and Supply Minister Saryu Roy clearly said that the cause of these deaths was not hunger. Expressing regret over these incidents, the minister said that the reason for the death of the child in Simdega was due to the fault of the department that the ration card had been cancelled.
He said that there was one such group working in the country which was against giving ration on the basis of Aadhar cards and biometric machines. He said that 11 lakh 50 thousand cancelled ration cards would be examined.
Under the National Food Security Act, the beneficiaries of food grains received on the subsidy would be available on other documents if the cash transfer number was not available. At this time of corruption, the decision to link the ration card to the Aadhar Card or to give the ration after identification of the biometric machine was not of importance but to deliver food to the people was more important.
It is clear that the intention of the government is not wrong but there are positive and negative manifestations of every decision which cannot be denied. These incidents in Jharkhand are a manifestation of those negative aspects; in such a situation, if the country having a population of 125 crores, needs to get rid of both malnourishment and corruption, then it is not just the government that needs to take action but it is also our duty to step forward at our own level and help the government in getting rid of both malnourishment and corruption with the support and cooperation of each other.
The responsibility of achieving Sustainability Development Goal 2 has been given to the Ministry of Agriculture and Farmers Welfare.
SDG 2: End hunger, achieve food security and improved nutrition and promote sustainable agriculture
2.1 By 2030, end hunger and ensure access by all people, in particular the poor and people in vulnerable situations, including infants, to safe, nutritious and sufficient food all year round.
2.3 By 2030, double the agricultural productivity and incomes of small-scale food producers, in particular women, indigenous peoples, family farmers, pastoralists and fishers, including through secure and equal access to land, other productive resources and inputs, knowledge, financial services, markets and opportunities for value addition and non-farm employment
2.4 By 2030, ensure sustainable food production systems and implement resilient agricultural practices that increase productivity and production, that help maintain ecosystems, that strengthen capacity for adaptation to climate change, extreme weather, drought, flooding and other disasters and that progressively improve land and soil quality
In order to achieve these great goals, the Ministry has started several schemes like Green Revolution, National Agricultural Development Scheme, Prime Minister Crop Insurance Scheme, National Livestock Development Scheme, etc. Undoubtedly these efforts of the government should be appreciated, but the situation at the ground level is also being hampered in these efforts.
The views expressed in the above article are that of Amarendra Suman of Charkha Development Communication Network.
--ANI