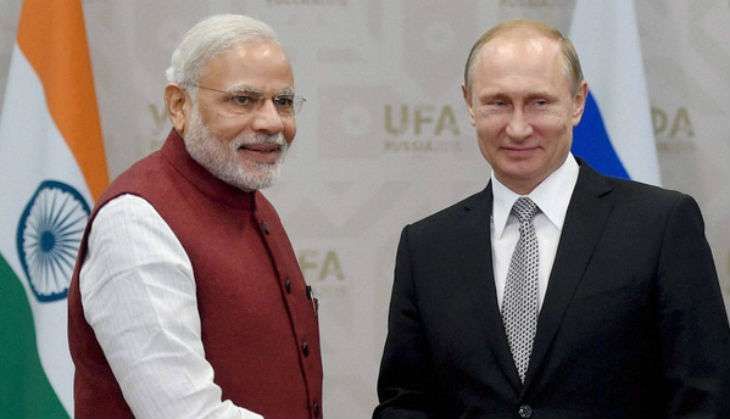 Russia and India are set to sign a multi-billion dollar deal for S-400 'Triumf' long-range air defence missile systems on 15 October, following talks between Russian President Vladmir Putin and Prime Minister Narendra Modi in Goa.
Here is all you need to know about the deal:
- The deal will be signed at the BRICS (Brazil, Russia, India, China and South Africa) summit in Goa, where Prime Minister Narendra Modi is slated to meet President Vladimir Putin.
- Both countries will sign a 5 billion dollar agreement or Rs 39,000 crore deal for Russian capital Moscow to deliver S-400 surface-to-air missiles to New Delhi. This missile has the capability to destroy incoming hostile aircraft, missiles and even drones at ranges of up to 400 km.
- India is interested in getting five systems of the most modern air defence system, capable of firing three types of missiles, creating a layered defence, and simultaneously engaging 36 targets.
- If India signs the deal, it would be the second customer of the prized missile system after China which had struck a USD 3 billion contract last year.
- The S-400, an upgraded version of the S-300, had earlier only been available to the Russian defence forces. It is manufactured by Almaz-Antey and has been in service in Russia since 2007.
- Russia also plans to sign an agreement on building Project 11356 frigates for the Indian Navy and setting up a Russian- Indian joint venture to produce around 200 Kamov 226T light utility helicopters under the 'Make in India' programme.
- Kamov 226T will replace the obsolete Cheetah and Chetak choppers. According to media reports, the deal will be signed between defence PSU Hindustan Aeronautics and Russian Rostec State Corporation.
- Following the results of their talks, Putin and Modi will adopt a joint statement to reflect their common approaches towards solving various global and regional issues.
- Both sides will also approve a roadmap of measures timed to coincide with the 70th anniversary of the establishment of diplomatic relations between the two countries.
Overall, Russia and India are set to sign about 18 documents. Reportedly, Putin and Modi will hold their talks in Goa ahead of the BRICS Summit.
- The Russian and Indian leaders are first expected to talk in a narrow format and then negotiations will be held at the level of delegations. Russia's delegation will also be represented by Vice Premier Dmitry Rogozin, the heads of the Industry and Trade, Energy and Economics Ministries, state civil nuclear power corporation Rosatom and others.
-- with PTI inputs