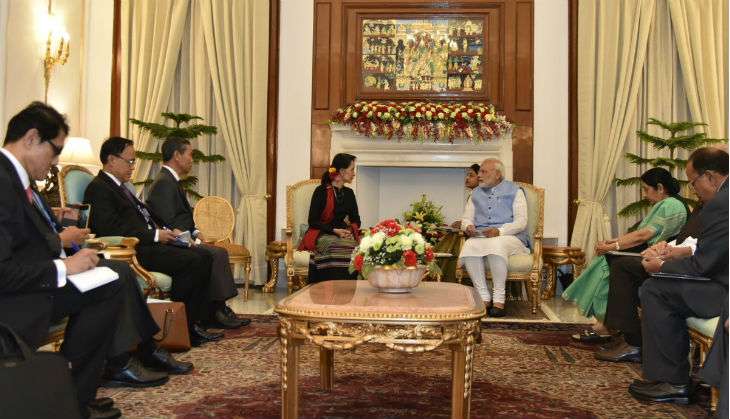 India and Myanmar on 19 October signed three agreements following delegation-level talks headed by Prime Minister Narendra Modi and the southeast Asian nation's State Counsellor and Foreign Minister, Aung San Suu Kyi.
"#IndiaMyanmar: Partners in Progress - The two leaders witness exchange of agreements in sectors of power, banking and insurance," External Affairs Ministry spokesperson Vikas Swarup tweeted.
One memorandum of understanding (MoU) was signed on cooperation in the power sector.
A second MoU was signed on banking supervision between the Reserve Bank of India and the Central Bank of Myanmar while a third MoU was inked for designing an academic and professional building programme for the insurance industry of Myanmar.
Suu Kyi met PM Modi on the third and concluding day of her state visit to India.
On Tuesday, she met President Pranab Mukherjee and External Affairs Minister Sushma Swaraj.
This is Suu Kyi's first official visit to New Delhi since her National League for Democracy (NLD) assumed power in Myanmar in March this year.
Prior to reaching New Delhi on Monday for the state visit, she attended the BRICS-BIMSTEC Outreach Summit in Goa on Sunday.
Her visit comes after Myanmar President U Htin Kyaw's visit to India in August this year.
Addressing the joint statement, Prime Minister Narendra Modi:
- I welcome Excellency to her second home. It is an honor for us to receive you in India
- As you lead Myanmar to become a modern and prosperous nation, India and its friendship will stand with you in full support and solidarity
- India has a robust development cooperation programme with Myanmar
- We have agreed to enhance our engagement in several areas including agriculture, power, renewable energy and power sector.
- As close and friendly neighbours, the security interests of India and Myanmar are closely aligned.
- Our societies enjoy centuries old cultural connect. We offered assistance in restoring pagodas that were damaged in recent earthquake.
- Archaeological Survey of India will soon begin work on restoring 2 temples and inscriptions of King Mindon and King Baygyidaw in Bodh Gaya.
Myanmar's Suu Kyi said:
- We have always admired India for being the greatest democracy in the world. We are confident that our countries can overcome challenges. The time has come for us to say that, yes we can do this.
- With PTI inputs