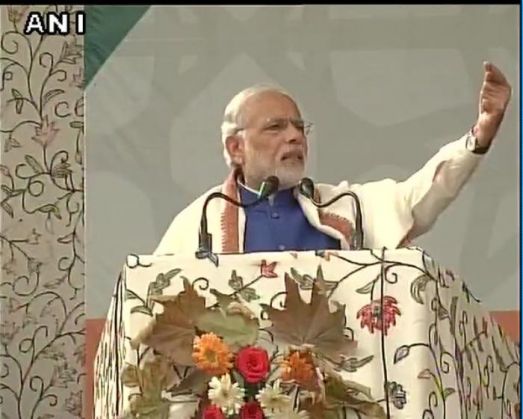 Prime Minister Narendra Modi on 7 November said India is incomplete without Kashmir.
"Without Kashmir, India is incomplete. This is the land that gave birth to Sufism, which taught us to bring everyone together. No matter how much the world advances, without humanity, we are nowhere. Jamuriyat, Insaniyat, Kashmiriyat - these are essential," Prime Minister Modi said.
"Kashmir has suffered a lot over the years and generations have seen their dreams being crushed. I can see Kashmir flourish in front of my eyes. I am trying to progress in that direction by taking the people's help," he added.
Criticising the Congress, the Prime Minister said India was destroyed by corruption and maladministration during their regime, but is progressing rapidly since his government took charge 17 months ago.
"Some people said India would never catch up with China. But today, they say India is not only catching up, but leading China," he said.
Asserting that he would bring the golden days of Jammu and Kashmir back, Prime Minister Narendra Modi said the solution to every problem is in providing employment to the youth.
"Even today, Delhi will walk shoulder to shoulder with the Jammu and Kashmir government to help the people here. It is imperative to bring every family out of the crisis here. But that's not it, not just recovery, I want to take it much ahead," he added.
"A state which has given us Parvez Rasool (off-spinner), should it not hold an international cricket match. Why not? Sehwag and Sachin - whoever sent the ball out of the park, they did it with the willow of Kashmir," he said.
Prime Minister Modi today announced a package of Rs. 80,000 crores to Jammu and Kashmir.
-ANI