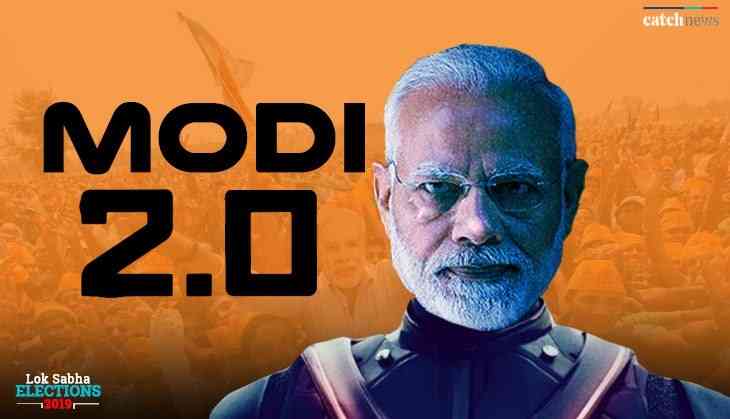 As PM Narendra Modi heads for a second term, the congratulatory messages start pouring on social media from all corner of the country. The social media has been flooded with several messages and memes on Lok Sabha Election 2019.
As per the latest trends, NDA is getting stronger and all set to form the government in the country. Also, BJP ministers are quite confident of the victory of the saffron party led by PM Modi.
Several BJP ministers took to Twitter and thanked PM Modi for his direction and vision.
Railway Minister Suresh Prabhu also wrote, 'The results which are swinging to one side by a huge margin speaks volumes of Shri @narendramodi ji's vision, reforms rolled out and effective implementation to ensure 'Sabka Saath 'Sabka Vikas'. #ElectionResults2019 #Verdict2019 #ModiAaRahaHai.'
Receiving messages from all parts of world,ministers of trade,VPs incharge Of Commèrce,congratulating @narendramodi ji for his spectacular #leadership historic victory World looking forward to his becoming @PMOIndia once again #ModiAaGaya #Verdict2019 Country marches ahead

— Chowkidar Suresh Prabhu (@sureshpprabhu) May 23, 2019
Finally, PM Modi also took to Twitter on the day of votes counting.
Here's what he wrote on the micro-blogging site:
सबका साथ + सबका विकास + सबका विश्वास = विजयी भारत

Together we grow.

Together we prosper.

Together we will build a strong and inclusive India.

India wins yet again! #VijayiBharat

— Chowkidar Narendra Modi (@narendramodi) May 23, 2019
The 2.0 trends on social media have started and Modi's followers also asking the 'How's the josh?' , the famous dialogue from the film Uri.
The pre-celebrations have begun on online media platform as BJP-led NDA breaches 300 marks.
Check out how Twitterati reacting on social media:
@RahulGandhi Pappu I feel so sorry for your loss in lok sabha election. Congratulations Pappu plz continue this loss forever. Thank you bye

— Athishay Suchindar (@AthishayS) May 23, 2019
#मोदी how's the josh? के आगे विपक्ष और ठगबंधन #बेहोश#ElectionResults2019 #ModiAaGaya #LokSabhaElections2019

— Odisha Chale Hum (@BankPandit) May 23, 2019
Modi's party @BJP4India has commanding lead as
Indian votes are counted.

PM Narendra Modi leads by over 1.8
lakh votes in Varanasi.
Modi has swept all opponents away in his Lok Sabha constituency Varanasi.#IndianElections2019#LokSabhaElections2019@narendramodi

— Maham Jee (@MahamSindhi) May 23, 2019
@MamataOfficial जय श्री राम 🙏🙏#ModiAaRahaHai #ModiAaGaya #VijayiBharat pic.twitter.com/Cef4e4pjZt

— 💂Dalip Pancholi🇮🇳 (@DalipPancholi) May 23, 2019
#ModiAaGaya pic.twitter.com/CSqpcIdIHw

— Aakansha Lalani (@LalaniAakansha) May 23, 2019
बाबुल की दुआए लेती जा... #ModiAaGaya pic.twitter.com/GDQEYTzjp8

— Chowkidar Anil Kumar Agarwal (@anilmanju20) May 23, 2019
-
चौकीदार प्योर है✌️
चौकीदार प्योर है✌️
चौकीदार प्योर है✌️
चौकीदार प्योर है✌️
चौकीदार प्योर है✌️
चौकीदार प्योर है✌️
चौकीदार प्योर है✌️
चौकीदार प्योर है✌️
चौकीदार प्योर है✌️
चौकीदार प्योर है✌️

रिट्वीट जरूर करें।#Amethi #ModiAaGaya #ElectionResults2019 #AcceptTheVerdict

— Chandan Mishra🇮🇳 (@chandanmishra15) May 23, 2019
Also read: Lok Sabha Election Results 2019: From Rajnath Singh to Suresh Prabu, congratulatory messages pour in for Narendra Modi