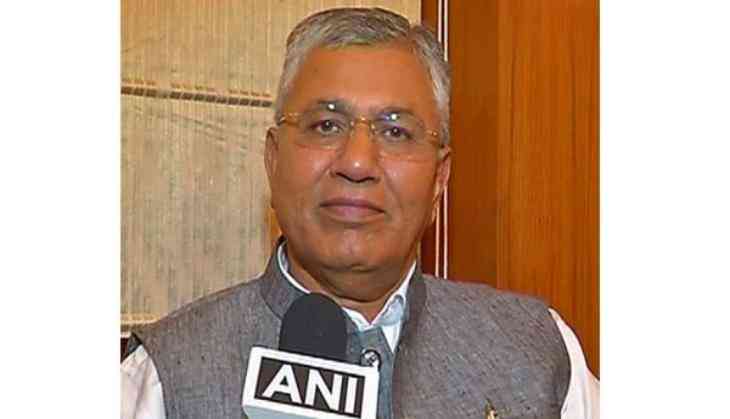 ICJ verdict will come in India's favour: Centre government (ANI)
As the International Court of Justice (ICJ) will deliver its verdict on Kulbhushan Jadhav case today, the Centre expressed confidence about the judgment, saying that it would be pronounced in India's favour.
'We have hope with the ICJ. We are confident that the verdict will come in our favour,' Union Minister P.P. Choudhary told ANI.
Echoing the same, Bharatiya Janata Party (BJP) leader Nalin Kohli said the central government has argued the matter forcefully in the ICJ and hence the verdict would come in India's favour.
'The matter has been argued as forcefully as it could have been argued by the government Pakistan has not presented the credible answers with regard to the critical question that were being asked. We all are hopeful and we hope that the judgment will come in our favour,' he told ANI.
The International Court of Justice at The Hague will pronounce its verdict on Thursday over the death sentence awarded to former naval officer Kulbhushan Jadhav by the Pakistani military court.
India has dragged Pakistan to the International Court of Justice over Kulbhushan Jadhav's case after Islamabad two-star military court framed concocted charges against Jadhav.
India has accused Pakistan of not following diplomatic norms and dragged Pakistan to the ICJ on May 8 for violating the Vienna Convention by refusing New Delhi's 16 requests for consular access to Jadhav and denying him the right to defend himself.
Arguing before the 11-judge bench at the ICJ,which included former Supreme Court Judge Dalveer Bhandari,India's counsel Harish Salve stressed that not granting consular access and not giving legal representation of Jadhav's choosing amounted to a 'miscarriage of justice' and a 'violation of his right' to defend himself from concocted charges in a 'farcical trial'.
India told the International Court of Justice (ICJ) that immediate steps must be taken to stop Pakistan's from carrying out the death sentence of former Indian naval officer Kulbhushan Jadhav.
Noted lawyer Harish Salve had told the court that India couldn't arrange for Jadhav's defence due to denial of consular access by Pakistan.
He said India made innumerable requests for consular access, but Pakistan refused to provide documents relating to the case and consular access to him.
Pakistan is deliberately executing Indians in the military courts where there is no scope for any arguments even in military courts and the charges are mostly fabricated and concocted which are outside the jurisdiction of civil courts.
Pakistan raised the confession statement of Jadhav as a base of its argument and accused India of using the ICJ for its political theatrics. India termed that the confession of Jadhav was forcibly taken by the military while in captivity and he was tried by a military court in Pakistan.
Pakistan's counsel Khawar Qureshi while presenting Islamabad's stance in the ICJ on death sentence handed to Jadhav said that the former naval officer entered Islamabad through Iran using a fake passport.
He told the court that Pakistan had given India all information regarding Jadhav's investigation, but didn't receive any response from New Delhi.
Jadhav, a former Indian Navy officer, was given the death sentence by a military court in Pakistan on April 10 for the alleged 'espionage and subversive activities.'
To which, Pakistan stated that the Vienna Convention provisions did not apply to a spy involved in terror activities. Also, the International Court of Justice (ICJ) denied permission to Pakistan to play a six-minute 'confessional' video of Jadhav, which India terms as a statement taken forcibly in captivity.
India demanded immediate suspension of Jhadav's death sentence but Pakistan presented the Kulbhushan Jadhav case as a matter of national security and ICJ 's decision would not apply to 'matters related to the national security of Pakistan.
-ANI