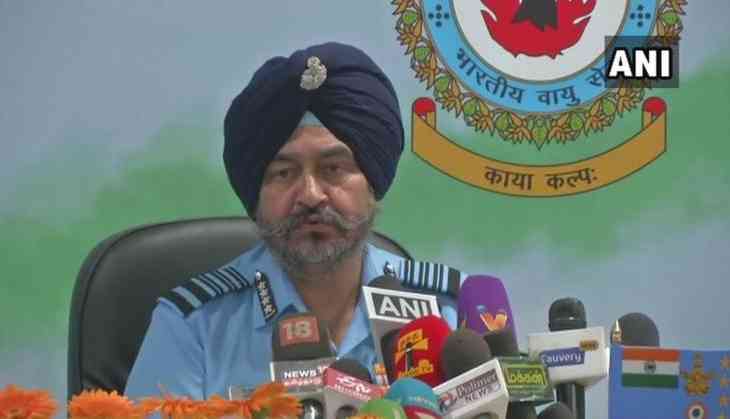 Air Chief Marshal Birender Singh Dhanoa addressed the media on Monday in Coimbatore, days after the aerial strikes conducted by the Indian Air Force on Jaish camp in Balakot. BS Dhanoa said We hit our target, the government count casualties.
"IAF is not in a postilion to clarify the number of casualties. The government will clarify that. We don't count human casualties, we count what targets we have hit or not," said Birender Singh Dhanoa.
#WATCH Air Chief Marshal BS Dhanoa on Mig-21 Bison, says, "One is a planned operation in which you plan & carry out.But when an adversary does a strike on you, every available aircraft goes in, irrespective of which aircraft it is. All aircraft are capable of fighting the enemy" pic.twitter.com/B2mZQTLBRd

— ANI (@ANI) March 4, 2019
Dhanoa also said that the Mig-21 Bison is a capable aircraft, it has been upgraded, it has better radar, air-to-air missiles and better weapons system.
Speaking on the IAF aerial strike on Jaish, Air chief Dhanoa said that the target has been clearly amplified by FS in his statement. "If we plan to hit the target, we hit the target, otherwise why would he (Pak PM) have responded, if we dropped bombs in the jungles why would he respond," Dhanoa added.
On Abhinandan Varthaman returning to his job, BS Dhanoa said, "Whether Wing Commander Abhinandan flies or not depends on his medical fitness. That's why post-ejection, he has undergone medical check. Whatever treatment required, will be given. Once we get his medical fitness, he will get into a fighter cockpit."
Also read: Rahul Gandhi takes a jibe at PM Modi's 'Made in Amethi' swipe, says, 'You lied again, got no shame'