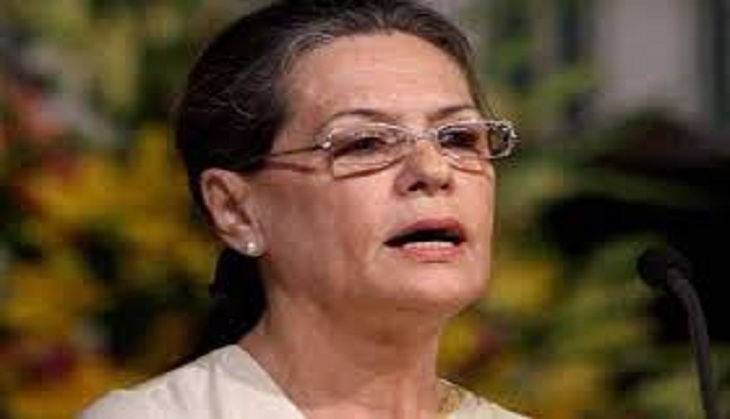 Congress President Sonia Gandhi lashed out at Prime Minister Narendra Modi's jibes at her Italian origin in an emotional speech on 9 May, saying that India has been her home for over forty years now.
During two poll rallies in Tamil Nadu and Kerala on 6 May and 8 May, the PM had launched an attack on the Congress, while also recalling the controversial AgustaWestland chopper deal.
Without naming Congress or any leader of the party, Modi had asked "if the court in Italy has said that people from the last government in India have eaten money, why then are you troubling us here?"
"Does anyone of your relatives live in Italy? Does any of my relatives live in Italy... I have not seen Italy. I have not been to Italy. Nor have I met anyone in Italy. If Italians have accused them what should we do?" Modi said.
Speaking at an election rally in Thiruvananthapuram, Sonia hit back at PM Modi after he brought up the issue of her Italian origin twice in the last three days. Towards the end of her speech, Sonia said she wanted to share something personal, not politics. She said she wanted to talk about the Prime Minister's statement "about Congress and particularly about me".
"Yes, I was born in Italy. I came to India in 1968 as the daughter-in-law of Indira Gandhi. I have spent 48 years of my life in India. This is my home. This is my country," Sonia said - while referring to
Sonia said that during her 48 years in India, the RSS, the BJP and some other parties had always "taunted me to shame me for my birth".
"I was born to proud and honest parents. I will never be ashamed of them. Yes, I have relatives in Italy. I have a 93-year-old mother and two sisters. But it is here, in my country, India, it is in this part that the blood of my loved ones is mingled," she said.
"It is here that I will breathe my last. It is here that my ashes will mingle with yours and my loved ones," she said, pointing out that the sole objective of PM Modi was to "engage in character assassination of his adversaries and 'spread lies'".
The PM can "sink to whatever depths" to challenge my integrity, she said, "but he cannot take away the truth from my commitment and love for India".
"I cannot expect Prime Minister of India Narendra Modi to understand this feeling. But I know, I am sure you will," she told the gathering at her second rally on the first day of her campaigning in poll-bound Kerala.
Continuing her tirade against Modi, Gandhi said the BJP-NDA was afraid because Ccongress stood for the rights of the minorities, poor, farmers, dalits, tribals and women.
On the PM's statement that Kerala had lagged behind in every sphere, she said, "I challenge him to show us at least one BJP-ruled state that has better health, educational achievements than Kerala".
Sonia also alleged that Modi had betrayed the mandate given by the people by not implementing any of the promises during the election campaign.
"Before the election, he took your votes by selling you hopes and promises. As soon as he became Prime Minister, he betrayed your mandate."
Pointing out that Modi had promised "lakhs and lakhs of jobs and money in your bank accounts and that he will decrease prices of essential commodities", she said not even one of these promises have been fulfilled.
"Prices of dal have doubled in two years, the BJP's government's biggest revenue generation is from taxing poor, price of petrol and diesel has come done drastically, but not the excise duty along with it."
Referring to beleaguered liquor baron Vijay Mallya's departure from the country, she said "rich businessmen who defaulted banks of thousands and thousands of crores of rupees were allowed to run away from the country under the very nose of PM Modi".
The BJP and RSS are afraid of the Congress as their "communal and divisive agenda" has been exposed by us.
"But we shall not bow down to their pressure and harassment and will continue our fight which we feel it is good for the country."
Gandhi alleged that the Modi government was "weakening the roots of democracy."
"Democratically elected governments in Arunachal Pradesh and Uttarkhand have been toppled by unconstitutional and devious means. The Prime Minister and his government do not believe in constitutional and Parliamentary norms," she said.
Congratulating Kerala Chief Minister Oommen Chandy for his five-year rule, she said he has succeeded in steering the state on the path of development despite the "non cooperative attitude of the Modi government."
Attacking the opposition in Kerala, Gandhi said the threat to the state is not only from BJP, but also from CPI(M) led LDF.
"LDF believes in violence and destruction. It has done everything to prevent the success of this government, but failed," she said.
The track record of UDF government speaks for itself, she said, adding, "we are serious about improving peoples lives. "We are sincere in our intentions and humble in our approach," she said.
--PTI