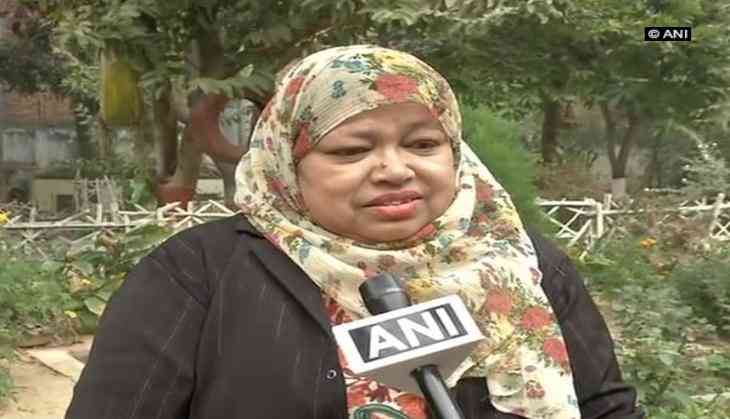 All India Muslim Women Personal Law Board (AIMWPLB) president Shaista Amber on 28 December welcomed the Triple Talaq Bill proposed in parliament.
She thanked the government for the initiative which will improve the living standards of Muslim women in the country.
"On this historical day, I thank Allah and the government, the Supreme Court, the Law Commission of India and all the parliamentarians who took necessary measures for Muslim women," said Amber.
She also claimed that the day was a very big and important one for all those women who have been oppressed by the evil practice and who have been banging doors for justice.
Earlier in the day, Union Law Minister Ravi Shankar Prasad proposed the Muslim Women (Protection of Rights on Marriage) Bill 2017, which seeks to criminalise the practice of instant triple talaq, in Lok Sabha.
"This law is for women's rights and justice and not regarding any prayer, ritual or religion," Prasad said while tabling the Bill for debate amid noisy scenes from those opposed to it.
However, several from the opposition, including All India Majlis-e-Ittehadul Muslimeen (AIMIM) president Asaduddin Owaisi and BJD MP Bhartruhari Mahtab, contended that it violated fundamental rights and was flawed.
Taking a dig at those opposing the bill, Amber questioned, "What had they done for our rights?"
The Bill draft says "any pronouncement of talaq by a person upon his wife, by words, either spoken or written or in electronic form or in any other manner whatsoever, shall be void and illegal".
There is also a provision of imprisonment for a term, which may extend to three years and fine for violators.
The draft bill also envisages entitling divorcee Muslim women for maintenance and has a provision for them to have the custody of their minor children. The offenses under the purview of this bill will be cognisable and non-bailable.
The Bill shall extend to the whole of India except Jammu and Kashmir.
It, has, however, been opposed by the AIMPLB, which requested the Central Government on Sunday to withdraw and withhold the bill, claiming that it is against women and children, and if implemented, would destroy many families.
Earlier in August, the Supreme Court had ruled that the practice of divorce through triple talaq among Muslims is "void", "illegal" and "unconstitutional".
-ANI