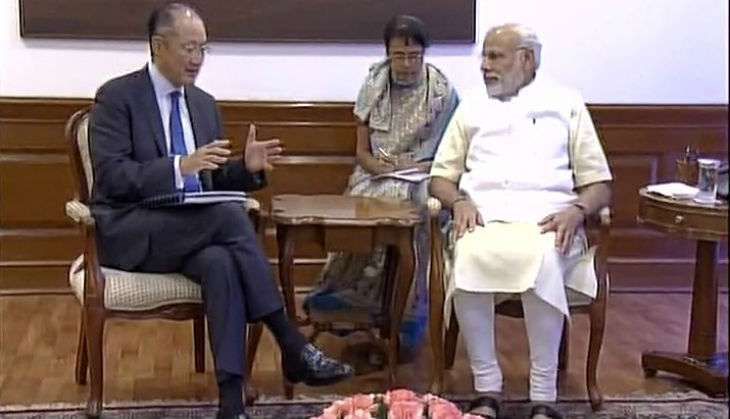 World Bank President Jim Yong Kim has said that he is a "big fan" of Prime Minister Narendra Modi who sets ambitious targets and deadlines like great leaders.
On the last day of his two-day visit, Kim called on Modi and pledged full support to the government's programmes particularly in areas of nutrition and renewable energy.
"I am a big fan of Prime Minister Modi and the reason I'm such a big fan is because he does something that all great leaders should do, that is set ambitious targets, set deadlines for those targets and then hold your staff accountable for those targets. That is tried and proved method of getting results," he told reporters.
Results of Modi's endeavours have started to show, as evident from the World Bank's ease of doing business report, he said.
"We just released an Index of Logistics on how easy is logistics in any country and found from 2014 to 2016 India's rank went from 54th place to 35th place. Logistics in India is better than Portugal," he said.
"These accomplishments are real. India under the leadership of Prime Minister Modi has been fantastic but that challenges us to be better," he said.
During his meeting with Modi, Kim promised proactive and full support of World Bank for his agenda including smart cities, Ganga rejuvenation, skill development, Swachh Bharat and power for all.
"I met Prime Minister Modi seven months after he took over as Prime Minister. I think he understands the World Bank almost better than we do ourselves because he began making very specific demands on priority areas like Swachh Bharat, 24/7 power for all," he told reporters here.
These twin initiatives, for which Modi had sought World Bank support, have moved very quickly, he said.
"India is the fastest growing economy in the world. Brexit happened and India proved to be extremely resilient. The inflation rate has been down. Growth has been extremely strong, balance of payment in better shape. Overall, you have to say that economically he has done well," he said.
Calling the cleanliness drive Swachh Bharat "amazing", he said there already are open defecation-free areas.
Open defecation is a critical problem, he said, adding Modi talks about women's dignity by addressing the problem through building toilets.
"As a medical doctor, I can tell you that it has everything to do with levels of malnutrition, everything to do with community engagement... these were really important changes that took a long time," he said.
--PTI