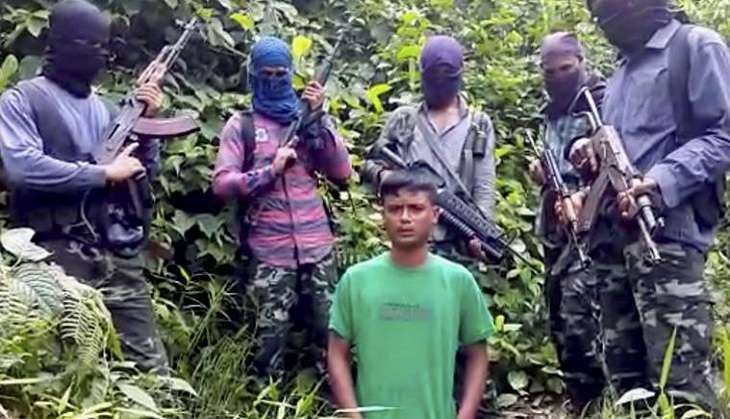 On 22 August, a chilling video was released by the Paresh Barua-led ULFA-Independent, that captures Kuldeep, a BJP leader's son, who they had kidnapped from Assam's Tinsukhia district. The ISIS-style video shows Kuldeep surrounded by armed and masked militants and appealing to Chief Minister Sarbanda Sonowal to secure his early release.
The video, aired by local TV channels, shows BJP leader and Tinsukia Zilla Parishad vice-president Lakheswar Morans son Kuldeep, who was allegedly abducted by the group on August 1, pleading to Sonowal, his uncle and Sadiya BJP MLA Bolin Chetia and his parents to secure his release.
Surrounded by five masked men pointing their rifles towards the kneeling young man in a jungle area, Kuldeep is seen looking at a video camera and narrating his plight -- about his deteriorating health, about the danger to his life as he could be caught in a crossfire between his kidnappers and security forces and about being moved from place to place.
"I have been kidnapped by the ULFA. They have been taking me from one place to another on foot by blindfolding me almost every day. I appeal to my parents, as well as to chief minister Sarbananda Sonowal to get me released as early as possible. I don't want to get killed in a crossfire ," Moran said in the video clip that was mailed to several local TV news channels on Monday.
Meanwhile, Sonowal appealed to the abductors to release him on humanitarian ground.
"I appeal to the abductors to release the boy as a humanitarian gesture. Our government believes that violence will achieve nothing and we are committed to the peace process," he told PTI.
MLA Chetia said he had received a phone call from the anti-talk ULFA-I faction demanding Rs one crore ransom for his nephews release, adding paying that amount was not possible for him and he also did not endorse the idea of paying ransom.
Kuldeep's mother and wife had earlier appealed to the ULFA-I to release him saying they do not have the finances to pay the ransom.
Assam and Arunachal Pradesh police are carrying out search operations to rescue Kuldeep from his abductors.
--PTI