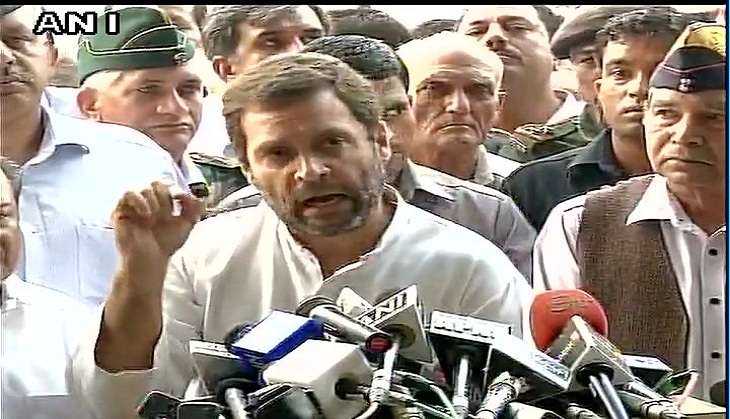 Joining the chorus of protest against the Centre's move to demonetise Rs 500 and Rs 1000 notes, Congress vice president Rahul Gandhi on Wednesday asserted that ordinary people in the nation have been thrown into chaos, and asked Prime Minster Narendra Modi how replacing Rs 1000 notes with Rs 2000 notes will make hoarding black money harder.
Expressing his ire on Twitter, Rahul said this step was a testimony of how little the Prime Minister cared about common people including farmers, shopkeepers and housewives.
"While the real culprits sit tight on their black money stashed away abroad or in bullion/real estate.Well done Mr Modi. One Q for the PM: How is replacing 1000 rs notes with 2000 rs notes going to make black money hoarding a lot harder? #Modilogic," the Congress vice president tweeted.
Also Read: Delhi Metro to accept Rs 500-1000 notes till Saturday
The Congress and the Trinamool Congress (TMC) have hit out at the Centre saying that while they welcomed any move to check black money, this development would hit small traders, small businessmen, and the common man celebrating festivals and weddings.
TMC spokesperson Derek O'Brien said his party has always been opposed to corruption in any form, but this is not the way to go about it.
"The Prime Minister promised bringing black money back from foreign accounts, besides other promises that were made before elections, but none of those have been kept. Now instead of bringing back money from illegal accounts abroad, this is putting the common man under pressure," he said.
Also Read: As Rs 500, Rs 1000 notes get demonetised, Bollywood tweets out its support
In a surprise late-evening televised address to the nation, Prime Minister Modi said the notes in circulation can be exchanged at banks till 30 December, adding that some concessions will be allowed for use of these notes at hospitals and crematoriums, and to buy air, rail and bus tickets till 11 November.
But the short notice sparked concern among people who then formed long queues outside ATMs across India, attempting to withdraw smaller bank notes.
"Banks will be closed tomorrow. It will cause some hardship to you. Let us ignore these hardships. In a country's history there come some moments when every person feels he too should be a part of it," the Prime Minister said.
Everyone from the common man to Dalal Street experts lauded the government's ban on Rs 500 and Rs 1,000 notes.
Also Read: Rs 2000 notes have been introduced for big transactions: Finance Secretary
However, the move is expected to hit many sectors such as real estate and jewellery, where cash transactions are widespread.
Sectors like real estate and jewellery that use more of black money will take a big knock after Prime Minister Narendra Modi's massive crackdown with the withdrawal of Rs 500 and Rs 1,000 notes.
Real estate stocks have taken a pounding in early trade as the sector is expected to feel the heat of the government's move.
--ANI