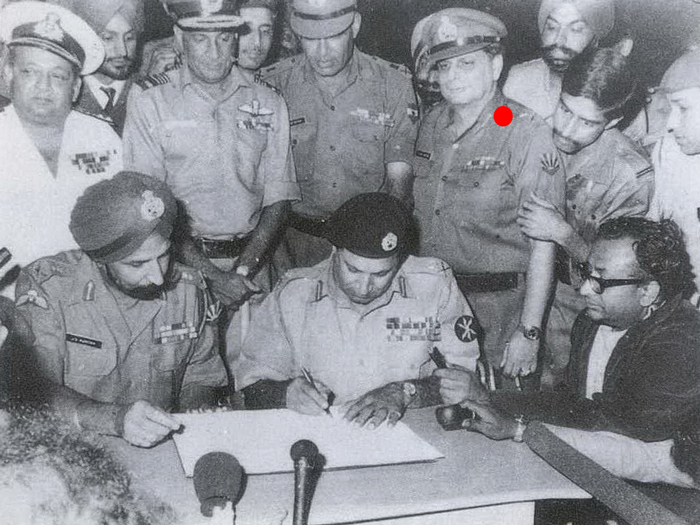 Jacob-Farj-Rafael (JFR) Jacob, a celebrated Indian Army officer, has passed away. He is best remembered for his role in the 1971 war against Pakistan which resulted in the creation of a new nation-state of Bangladesh.
A Major General at the time, he acted as Chief of Staff of the Army's Eastern Command during the map-altering war. In subsequent years, he claimed to be far more instrumental in the outcome, claiming to almost single-handedly obtain an unconditional surrender from the Pakistani Armed Forces through a glorious bluff. Although official corroborations for this claim seem to be missing, here is how Jacob had put forth his anecdote in interviews:
With the war a couple of weeks old, JFR was invited to lunch for a ceasefire discussion by Lieutenant General AAK Niazi, the commander of the Pakistani Army in East Pakistan. JFR, accompanied by just one officer, flew to the enemy with an "instrument of surrender" he had written for Niazi.
After he arrived at Niazi's headquarters and had the document read out to him, he realised that his counterpart was less-than-impressed.
"This is an unconditional surrender," said Niazi. "You have only come here to discuss the ceasefire and the withdrawal of the Pakistani Army."
"General," replied JFR, "this is not unconditional, I have worked on this for some time. I had put in it that we would protect ethnic minorities, that we would ensure the safety of them and their families, that they would be treated with dignity as officers and men according to the Geneva Convention. So it is not unconditional. Where would you find all these conditions laid down?"
Niazi refused and said that he has 30,000 troops in Dhaka, 5,000 more than JFR had anticipated.
Finally, the Major General said, "Look general, you surrender, I will ensure your safety, the safety of your families, ethnic minorities, everyone. You will be treated with respect. If you don't, I am afraid I can take no responsibility for what happens to you or your families. What is more, we will have no other option but to order the immediate resumption of hostilities. I give you 30 minutes."
With this, JFR walked out.
Aware that he had been bluffing, he "appealed to God for help and said the Shema Yisrael," he recalled later and said that he went out to the verandah, pacing the entire half-hour and smoking his pipe. "And I was thinking, suppose he doesn't surrender, what do I do? He has 30,000 troops, we have 3,000, he can fight for three weeks at least!"
JFR was wondering what was going to happen as he walked back after half-an-hour. The document was lying on the table.
"General, do you accept this paper?" he asked Niazi.
The Pakistani kept quiet. JFR asked him three times to no avail. Then he picked it up and said, "I take it that it is accepted."
Niazi was teary-eyed. There were glares from the other Pakistani generals and admirals. Finally, the commander agreed to the terms.
The next day, 93,000 Pakistani soldiers surrendered. JFR had had a meagre 3,000 Indian troops behind him.
Watch JFR's interview with Bangladesh Today: