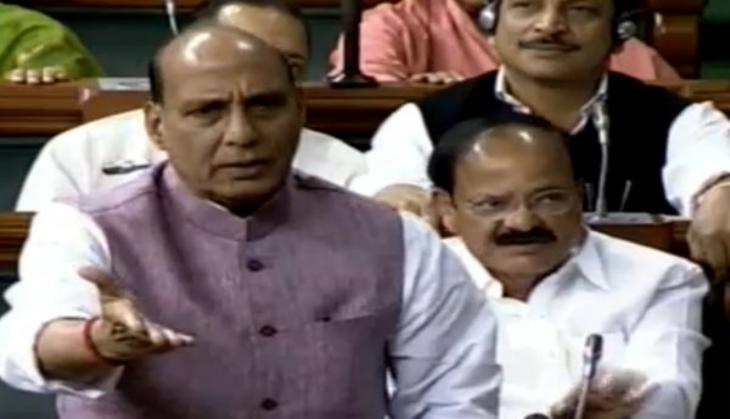 Congress members cheered in the Lok Sabha when Former Home Secretary and BJP member RK Singh from Arrah constituency of Bihar, contradicted Home Minister Rajnath Singh.
While Rajnath Singh, who ranks second in the Cabinet, appeared unmoved by the MP's remark, cheerful congress members were seen welcoming the interruption.
Over Congress floor leader Mallikarjun Kharge's argument that the Union government had discontinued a housing scheme under which the Centre provided 75 per cent of the money for police modernisation, equipment and housing against 25 per cent by the states, Rajnath Singh explained that it is not (correct) that state governments run any programme for housing out of the funds meant for police modernisation.
Kharge persisted with, "You ask your predecessors. (L K) Advani sahib is sitting here. He gave money under food-for-work." Rajnath Singh then argued that the money is not given for housing alone though it was possible that state governments might be utilising it, but "police modernisation fund is not allocated for this purpose".
R K Singh then got up and said, "Let me clarify one fact. Housing was a component in the police modernisation scheme under which the central government gave funds and the state government also gave funds. Perhaps this has been discontinued by the central government because the shares of taxes given by the Centre to the states have been increased. State governments have been told to do this (take care of housing) from their allocation. But earlier, housing was an important component of the police modernisation scheme. I urge the Home Minister to revive the police modernisation scheme and talk to the Finance Ministry," quoted The Indian Express.