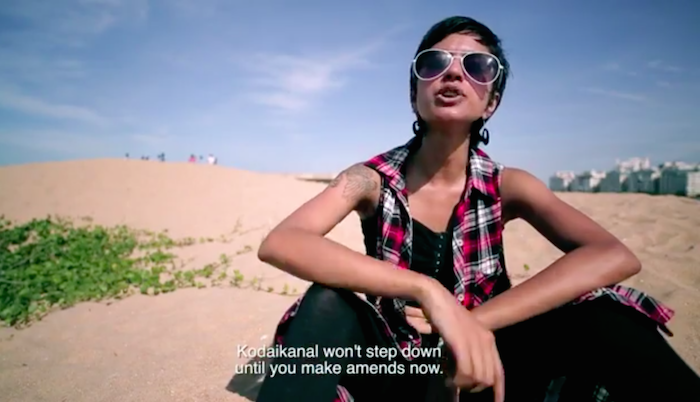 Hindustan Unilever (HUL) has finally responded to the viral video 'Kodaikanal Won't', a rap song by Chennai-born Sofia Ashraf, voicing the demands of former HUL thermometer factory workers.
After being ignored for 14 years, the video, posted on 30 July, was the workers' attempt to challenge HUL on a platform they cannot ignore.
Safety is our number one priority. Extensive studies found no harm to workers or environment in Kodaikanal. Facts: http://t.co/QaKjYlpsUN

— Unilever (@Unilever) August 4, 2015
We've taken action to clean up soil on factory premises - now waiting final consent from local authority before completing.

— Unilever (@Unilever) August 4, 2015
Working hard to find fair resolution with former workers - but need all parties around the table to agree on an outcome.

— Unilever (@Unilever) August 4, 2015
More facts about this matter are available on our website: http://t.co/QaKjYlpsUN

— Unilever (@Unilever) August 4, 2015
On 4 August, the company responded to the video with a notice on its website. HUL maintains that various studies, including those monitored by the Supreme Court of India and the Madras High Court, found that the thermometer factory in Kodaikanal did not cause lasting damage to the environment.
The company also said it was not directly responsible for the mercury contaminated waste that was dumped behind the factory.
HUL, in the notice published on its website, said it had addressed the problem immediately and closed its factory in 2001 when the first signs of mercury damage were brought to light.
Read: You've seen the 'Anaconda' Kodaikanal Won't video. Wait till you read the Unilever backstory
"We have been working hard to find a fair and mutually satisfactory resolution at the suggestion of the Madras High Court and have had more than 10 meetings with our former employees' representatives since 2014," said the notice.
While it is a positive sign that HUL has taken notice of the matter, their response to it is nothing new.
Activist Nityananda Jairaman, who has been at the forefront of the movement against HUL, told Catch that the company wants to find a quick solution to the problem in order to avoid a controversy. "What they are offering is peanuts. The workers don't need their charity. HUL wants to settle the matter speedily, but its senior management needs to find the heart to compensate for the damages," said Jairaman.