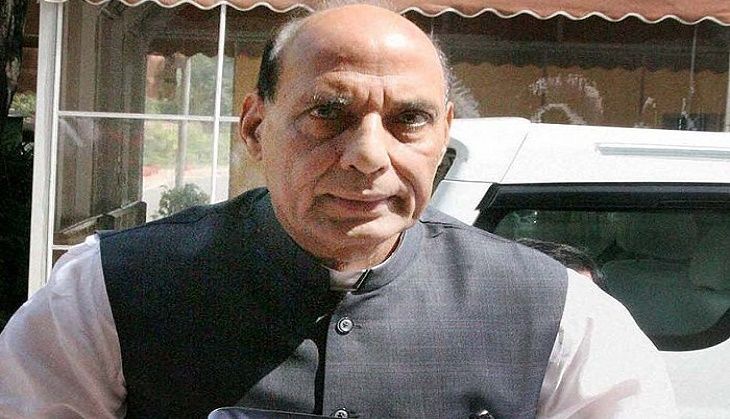 Home Minister Rajnath Singh's upcoming visit to Pakistan in the backdrop of violence in Kashmir following Hizbul commander Burhan Wani's killing has run into controversy.
The Hindu Sena, which has been making news for its overt love for Donald Trump and their wish to see him as the US President, will tomorrow burn the effigies of Rajnath Singh opposing his decision to visit Pakistan for the SAARC summit. They would be protesting at Jantar Mantar on Tuesday.
Vishnu Gupta, President of Hindu Sena and the man behind the Kerala House beef controversy, demanded that Singh should cancel the trip and ask the SAARC nations to hold the summit in another country.
"The Kashmir Valley is burning and recently the US released a 1000-page dossier stating Pakistan's role in the Pathankot attack. How can the Home Minister visit Pakistan under such circumstances. Isn't he running away from his responsibility. Isn't it an insult to our armed forces who are losing their lives because of Pakistan-sponsored terror?" said Gupta.
The government had stated that the SAARC talks will be multilateral and there will be no bilateral engagement with any Pakistani leader. However, the issue of terrorism would be up for discussion as per media reports.
Hizbul chief, and Hafez Sayed to protest against Rajnath in Pakistan
Not only on the domestic front, it seems the Home Minister will face protests in the host country as well on 3 August, the day of his visit. At a rally on Sunday, Hizbul Mujahideen chief Syed Salahuddin threatened to stop Singh's visit. He issued a warning to the Pakistani government against welcoming Singh who he claimed deployed armed forces in the Valley "to shed the blood of innocents"
Jamaat-ud-Dawah chief Hafiz Saeed and Jamaat-e-Islami have also issued similar warnings raising security concerns for the Home Minister and embarrassing Pakistan. However, India has decided to go ahead with the talks amid such hostility and put the onus of the Home Minister's security on the host country.
Origin of SAARC Home Ministers' meeting
At the 13th SAARC Summit held in Dhaka in November 2005, the Heads of State decided that the SAARC Interior/Home Ministers would meet annually preceded by a meeting of the Interior/Home Secretaries to strengthen cooperation in the area of counter-terrorism, which they agreed was a challenge to all states and a threat to humanity, and could not be justified on any grounds.
The first meeting of SAARC Interior/Home Ministers was held in Dhaka on 11 May 2006, followed by a meeting in New Delhi in 2007.
SAARC stands for South Asian Association for Regional Cooperation. The member states are Afghanistan, Bangladesh, Bhutan, India, Maldives, Nepal, Pakistan, and Sri Lanka.