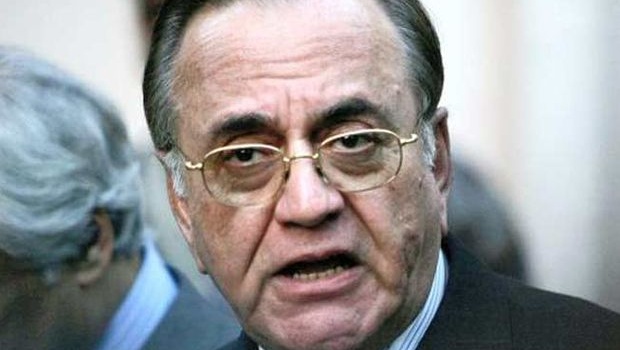 On Monday morning, Shiv Sena activists attacked and blackened ORF chairman Sudheendra Kulkarni's face for refusing to cancel former Pakistan Minister Khurshid Mahmud Kasuri's book launch in Mumbai. Despite back and forth statements from Shiv Sena, Kasuri and Kulkarni went ahead with the book launch, which was attended by film actor Naseeruddin Shah.
Read: Inking and politics: the times when famous people got their faces blackened
Finally, the book launch concluded in Mumbai and was attended by Kulkarni and Bollywood veteran Naseeruddin Shah. Here's what Kasuri said at the event:
-I sent a copy of the book to LK Advani, Manmohan Singh, Natwar Singh, Yashwant Singh, President of India and the VP of India.
-The purpose of writing this book is to correct some misconceptions.
-Jawaharlal Nehru and Jinnah had different ideas about the Partition.
-I want to thank the CM of Maharashtra for having provided me excellent protection.
- Here is my suggestion, don't trust United Nations Military Observer Group. There are people of repute in Pakistan and India.
-Ordinary people, soldiers are being killed. Is there a way out? Yes, where there is a will there is a way.
-PM Modi made a promise of development, but we need to have peace. I hope the PM realises that AB Vajpayee's route was the right one.
-I have not mis-stated any facts or incidents (sic).
Catch gives you a complete timeline of the events leading to the final book launch:
-On Monday morning, Shiv Sena accused the ORF chief of being a Pakistani agent and threatened to scale up its opposition to former Pakistan Foreign Minister Khurshid Mahmud Kasuri's book launch in Mumbai.
-Sena leader Sanjay Raut said, "The man who has organised Kasuri's book launch in Mumbai (Sudheendra Kulkarni) is a Pakistani agent. Maharashtra chief minister Devendra Fadnavis has publicly said that Khurshid won't be allowed to have any anti-India view in his programme and if he does, the organiser will be responsible for it."
-In an interview, Kasuri said he was very upset by the attack. "Kulkarni is a gentleman, a scholar and an author. This shouldn't have happened to him. I have known him for 10 years now. He came to Pakistan with LK Advani when I invited him for the inauguration of the Kathasraj temple," he said.
-Mumbai police spokesperson Dhananjay Kulkarni said the incident occurred in front of Kulkarni's house near Kings circle in suburban Matunga at around 9.30 am. "About 5-7 unknown persons shouted some slogans and threw colour or ink on him," he said, adding that city police will provide security for the event to prevent any untoward incident.
-"Many people including the Chief Minister feel that the former Pakistan foreign minister has come here as a peacenik. We have written a letter to the Chief Minister pointing out the anti-India statements made by Kasuri in the past. It is up to the CM to now decide on whether he should allow the function to take place," Raut further lamented.
-Raut claimed that Kasuri was instrumental in supporting anti-India forces including Kashmiri separatist organisations such as the Hurriyat.
-"We have not withdrawn our agitation. We are firm on our decision and on our stand against Pakistan. We are not doing this for any political benefit. We are a nationalist organisation and we are voicing the sentiment of a large section of this country," Raut further added.