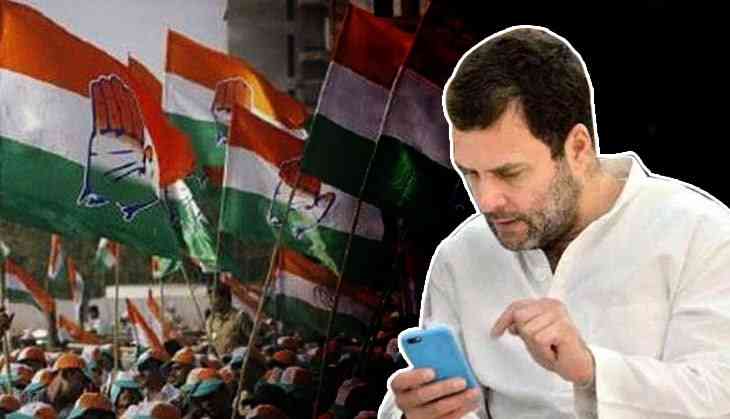 The dilemma over the Chief Ministers in the Congress winning states i.e. Madhya Pradesh, Rajasthan and Chhattisgarh have not over yet. However, Congress President Rahul Gandhi has adopted a new way to solve the problem.
Well, it was not easy for Gandhi to select the leader for the state, therefore, he had asked his party workers with the help of personal message on a portal.
He had asked his party's booth-level worker about the Chief Ministers of their choice.
Earlier on Wednesday, the buzz has been created about the possible Cms increased in tenor. As per the reports of HT, Congress President had asked his party's data analytics department chairperson, Praveen Chakravarty, to take the inputs of his party workers with the help of their new data backbone named 'Shakti'.
With the help of this new network, Gandhi sends an audio message to his 240,000 party workers in three states (Chhattisgarh, Madhya Pradesh and Rajasthan). In the recorded message, he had asked the workers to suggest the name of CM candidate in the states and also thanked them for their hard work and support during the state assembly elections.
The workers were told that they have to take the name of their choice after a beep.
As per the reports, the audio message was not sent to all party workers of these three winning states of Congress via Shakti network. Rather the message was sent to those workers who worked hard at the booth level.
Through the party's Shakti network, the party also could able to judge the level of involvement of a booth-level worker with the .party
Approximately, all recipients have responded to the message sent by Gandhi. The maximum response was received from Rajasthan.
However, Shakti results were not the sole criteria to select the CM post candidate but it was helpful to know some important facts.
However, before taking the final decision, Gandhi will surely consult the senior leaders of the party.
What is Shakti network?
It was developed this year, which is an expanding network of around 4 million booth-level Congress workers. With this new technology, the party could connect and interact with its dedicated workers.
Also read: Here's what Rahul Gandhi said while choosing CMs in Rajasthan, Chhattisgarh and MP