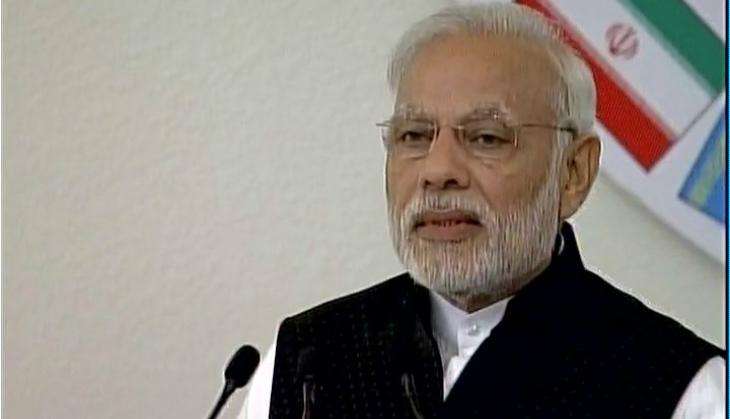 Stressing that silence and inaction against terrorism will further embolden terrorists, Prime Minister Narendra Modi launched a veiled attack on Pakistan today and called for resolute action against those supporting and financing the extremist organisations.
"We must demonstrate strong collective will to defeat terror networks that cause bloodshed and spread fear. Terrorism, externally induced instability, poses gravest threat to Afghanistan's peace, stability and prosperity," he said while speaking at the inauguration of the sixth 'Heart of Asia' conference.
Extending India's support to Afghanistan in combating terrorism, Prime Minister Modi said, "As such, support for voices of peace in Afghanistan alone is not enough. It must be backed by a resolute action. Silence and inaction against terrorism in Afghanistan and our region will only embolden terrorists and their masters"
The Prime Minister, who jointly inaugurated the conference along with Afghan President Ashraf Ghani, spoke highly of Kabul while assuring India's full support to the neighbouring country.
"It is a particular pleasure to jointly inaugurate Heart of Asia conference with our friend and partner, President Ashraf Ghani of Afganistan," he said.
Connecting the roots of the host city with Afghanistan, Prime Minister Modi said, "Amritsar also happens to nurture an old and steadfast connection of warmth and affection with Afghanistan. Among the earliest disciples of the first Guru of Sikhs, Baba Guru Nanak Dev ji, were Afghans in Kabul, in the 15th century."
"Our words and actions remain focus in advancing a critical unfinished mission of our time, that is, to help Afghanistan, build and strengthen its social, political and institutional fabric, secure its territory and citizens from external threats," he added.
The Prime Minister also laid emphasis on Afghanistan's welfare.
"The answers are all there, the question is up resolve and action and of putting Afghanistan and its people first. For this, first, an Afghan laid, afghan-owned and Afghan-control process is the key. It is the only guarantor of durability of solutions," he said.
Prime Minister Modi said also touched other aspects of infrastructure, trade and security.
He said, "Our cooperative effort in Afghanistan should contribute to its infrastructure and institutional capacity. On our part, we see Afghanistan as the hub for strengthening links between South Asia and Central Asia."
"President Ghani and I have conversed on the priority of strengthening trade and transport linkages with other partners in the region," he added.
Prime Minister Modi further said the welfare of Afghanistan and its people is close to our hearts and minds.
"Our commitment to our brave Afghan brothers and sisters is absolute and unwavering," he said.
Talking about a few partnership projects between India and Afghanistan, he emphasized on the growing bond between the two countries.
"Herath-India-Afghanistan friendship dam, also called the Salma dam, launched few months ago, will help revive economic activities for the people there. Also, theParliament building in Kabul represents our strong commitment to Afghanistan's democratic future," Prime Minister Modi said.
"We also plan to connect Afghanistan with India through an air transport corridor. President Ghani and I have discussed additional measures for strengthening our bilateral cooperation," he added.
Prime Minister Modi emphasized that Afghanistan is close to India, adding New Delhi takes privilege in working towards the betterment of Kabul.
He said, "Let us remember that every passing day we help Afghanistan to achieve successful political security and economic transition. We are also helping ourselves to create more peaceful region."
"Let us re-dedicate ourselves to making Afghanistan a geography of peace, a place where region and peace succeeds, progress and prosperity prevails, and democracy and plurality wins," he added.
--ANI