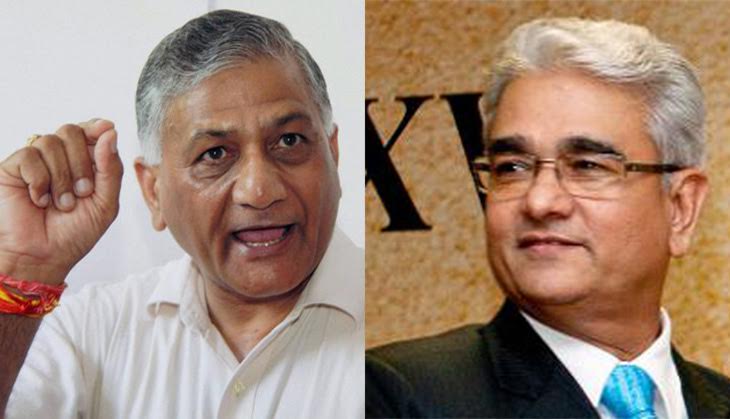 MoS External Affairs Gen (retd) VK Singha and Comptroller and Auditior General of India Shashi Kant Sharma have locked horns once again. This time on the AgustaWestland scam issue. Confrontations between the two date back to the latter's time as India's Army chief. It was during Sharma's stint as the Defence Secretary that the controversy on Singh's date of birth had cropped up, leading to strained relations with the UPA government.
General VK Singh lost the Date of Birth battle in the Supreme Court to the government. However, now with the AgustaWestland deal haunting the UPA government, Singh has a chance to get back at Sharma.
The CAG's name has cropped up in the defence deal. Singh told India Today in an interview: "It depends on his morality but if I was in his place and my name had cropped up in the deal, I would have immediately resigned from a constitutional post and joined the investigations.''
In fact, before his appointment as the CAG in 2013 by the UPA government, advocate Prashant Bhushan filed a PIL opposing the same. One of the several issues raised in the fresh plea filed was that during his tenure as DG (Acquisitions) or as the Defence Secretary, Sharma cleared several major defence purchases, some of which have turned out to be a source of embarrassment to the Centre.
The defence deals referred to in the petition included procurement of 12 VVIP choppers from Anglo-Italian firm AgustaWestland for the Indian Air Force at a cost of Rs 3,500 crore, which according to Italian investigators, involved kickbacks of at least Rs 350 crore.
Another defence contract cleared during Sharma's tenure as DG (Acquisitions) was the conversion of Russia's discarded warship Admiral Gorshkov into a full modern aircraft carrier, renamed INS Vikramaditya, originally scheduled to be delivered by August 2008 at a total cost of $947 million and the cost of which has "shot up" to $2.9 billion with the vessel still not delivered, the petition said.
The Tatra truck deal, which erupted into a major scam, was also cleared by Sharma, the petition said.
The petition submitted these major defence acquisitions made over the last few years were cleared by Sharma and now as the CAG if he audits these expenses, it will lead to a conflict of interest as he would be auditing the defence purchases he sanctioned himself!
However, the PIL was dismissed by the Delhi High Court and he went on to become the CAG. On his part, Singh said that had he been in Sharma's position, he would have resigned from a Constitutional position.
With inputs from PTI