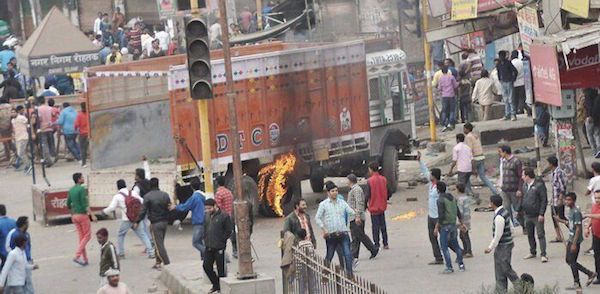 The Jat quota violence in Haryana has claimed three lives so far. One more person was killed by a mob on Friday night despite authorities imposing a curfew and issuing shoot at sight orders in two districts.
Budha Khera Railway Station in Jind district was set on fire by some unidentified persons on Saturday. Furniture, record room and other articles at the railway station were set on fire, reports PTI.
Protesters set buses on fire at Bus station in Kaithal (Haryana) #JatReservation pic.twitter.com/QfvzRUrkUK

- ANI (@ANI_news) February 20, 2016
Outer Delhi borders have also been reportedly sealed after the violence in Gurgaon.
The protesters have also stopped water supply to Delhi, according to media reports.
Students from Jat community protested at Mall Road outside North Campus, Delhi University on Saturday.
The Army conducted a flag march in the tense areas in Haryana on Friday and used choppers to reach parts of Rohtak even as incidents of violence and arson by Jats demanding reservations continued at several places overnight.
Schools and colleges have been closed till Monday.
Haryana DGP YP Singhal said that arrangements have been made to deal with any untoward incidents.
Chief Minister Manohar Lal has said he is ready for talks adding that the state government may bring a bill for the Jat Aarakshan in the upcoming Assembly Session.
Union Home Minister Rajnath Singh has appealed to the people to maintain peace and order in the state.
Protesting Jats continued to block roads and rail routes, affecting supplies of essential commodities to Rohtak, Jind, Bhiwani and other parts of the state on Friday.
The state government had on Friday called the Army in nine districts of Haryana while curfew was imposed in Bhiwani and Rohtak districts along with shoot at sight orders after one person died and 25 were injured during the Jat stir which turned violent with mobs resorting to widespread arson.
The Centre has also rushed 3,300 personnel of paramilitary forces to control the rampaging mob.
Incidents of violence and arson continued at several places during the night even as prohibitory orders remained in place in many places including Hisar, Jhajjar, Jind, Kaithal and Panipat.
Mobile Internet services were suspended in almost all the districts.
Protesters had also targeted police and private vehicles and offices, as well as two toll plazas at Hansi in Hissar district near Rohtak, both located on the Delhi-Hisar-Fazilka National Highway.
(With inputs from agencies)