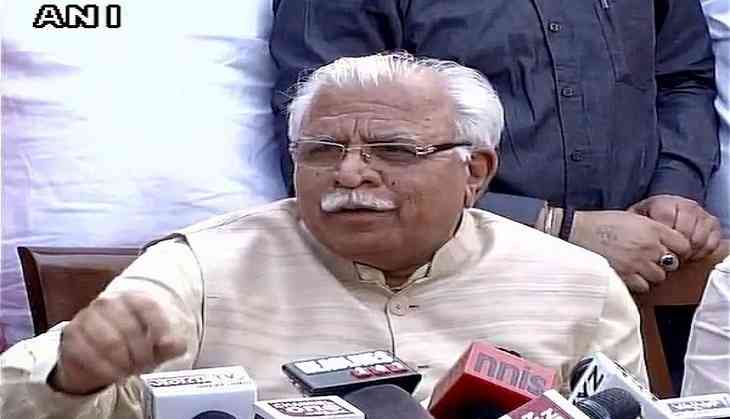 Haryana CM Manohar Lal Khattar
Haryana Chief Minister Manohar Lal Khattar may meet Delhi state chief, Arvind Kejriwal on 13 November to discuss the issue of pollution that has beset the northern part of India.
Responding in the affirmative to a written request by Kejriwal, the Haryana Chief Minister wrote back on Friday, saying that he would be in the national capital from afternoon of November 13 till forenoon of November 14, and in Chandigarh thereafter. Further, he asked Kejriwal to "call [him] to fine tune a mutually convenient date, time, and venue for the meeting."
In response to Delhi Chief Minister's allegation that the main reason for air pollution in the national capital is the stubble burning in Punjab and Haryana, Khattar said that a collective action was needed, and further commented that Kejriwal's letter betrayed his "inability to rise above short term electoral interests."
"Your assertion 'the Governments have failed to provide them economically viable solution' gives away your subconscious awareness of your government's inaction in this regard," he added.
Khattar further questioned Kejriwal over the steps taken against stubble burning by farmers in Delhi, and conveyed the Union Agriculture Minister's information that Haryana has allocated Rs 39 Crore towards crop residue management, out of Rs 45 crore funds.
"Punjab has not spent even a paisa out of its allocation of Rs 97.58 crore," he added.
On November 8, Kejriwal had sent a letter to chief ministers of neighbouring Punjab and Haryana states, urging them to work jointly to resolve the air pollution issue.
Thereafter, Punjab Chief Minister Captain Amarinder Singh wrote to Prime Minister Narendra Modi, seeking compensation for farmers for crop resident.
Singh also refuted any possibility of a meeting with Delhi Chief Minister Arvind Kejriwal, saying the issue of pollution crisis was a much bigger issue involving all states contributing to pollution.
-ANI