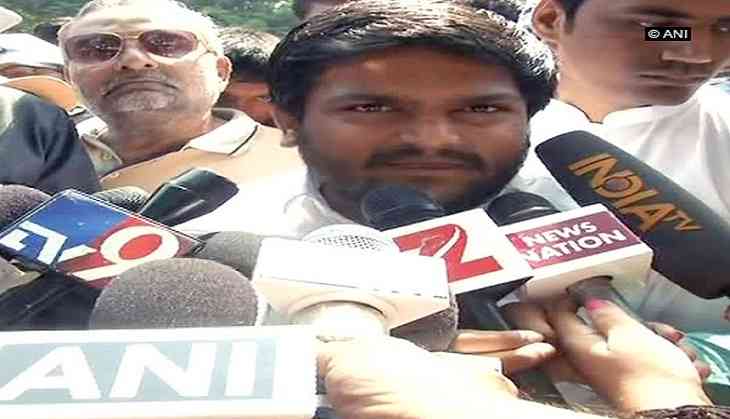 Patidar Anamat Andolan Samiti (PAAS) convener Hardik Patel on Friday said he won't be joining any political party for the next two and a half years as he wants to work as the people's agent.
"I have repeated this numerous times that for the next two and a half years, I have no plan to enter politics. I just want to talk about the people, want to work as an agent of the people and work for them," Patel said, while addressing the media.
He further said their issues were clear and their fight was a constitutional fight for the benefit of the society and for future of Gujarat.
Commenting on Congress vice president Rahul Gandhi's scheduled Surat visit, Patel said, "It is just a good coincidence that Rahul Gandhiji is coming for a Congress rally, and I am also here for a few events."
Patel, who was in the city to appear before the court in a sedition case filed against him, said: "We don't want to play games regarding such issues (coalition) with any political party."
The PAAS convener also took a jibe at the Prime Minister Narendra Modi.
"Modi ji gave a good speech yesterday, he seemed emotional while giving it as well," he said.
Talking about their demands, Patel said, "One main issue which is of reservation, we are still talking on that issue. And till November 6 or November 7, the whole stance will be cleared, as to what will happen."
Patel's reservation demand has come on the heels of the upcoming election here, wherein the Congress party is trying to woo the Patidar community.
Earlier, Patel had met the Congress leaders to discuss the reservation demand and gave deadline to the party to clear its stance on his demand till November 7.
The Congress party had, however, said that it will make a decision after consulting the matter with legal experts.
The Congress is counting on the Patidar votes to sway the election results of Gujarat polls in their favour and uproot the Bharatiya Janata Party (BJP), which has been in power since 1995 in the state.
The polls will be conducted in Gujarat in two phases - December 9 and December 14.
The counting of the votes will be held on December 18.
-ANI