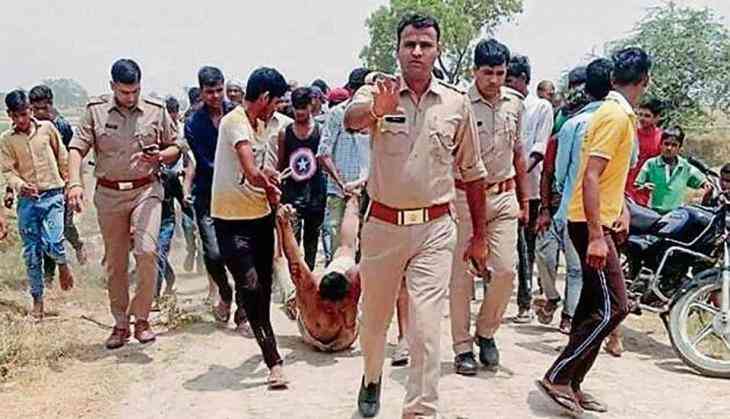 Uttar Pradesh cops apologise after a man was heinously dragged in front of personnel and the photo of the same went viral. In a saddening incident on Monday a Muslim man was brutally beaten to death by a mob over a cow slaughtering rumours in Bajhera village of Hapur district. The incident has triggered a massive outrages over the issue. Three policemen present at the spot have now been taken off duty.
A picture that shows villagers dragging injured Kasim in the presence of three cops, was widely shared on social media. Two men --- 45-year-old Qasim and Samayuddin, 65 --- were assaulted by a mob. Qasim later succumbed to death, the other person has been critically injured.
However, the superintendent of police (SP) of Hapur Sankalp Sharma refuted allegations that Kasim, 45, was dragged in the presence of cops, the Uttar Pradesh police posted a tweet from its official Twitter handle apologising for the incident.
"The policemen should have been sensitive in their conduct and should have taken him along in a better manner," the tweet said.
We are Sorry for the Hapur Incident.
Law & order incidents often lead to unintended yet undesirable acts. pic.twitter.com/w5Tsen9UxG

— UP POLICE (@Uppolice) June 21, 2018
"Because of non-availability of an ambulance at that moment, the victim was carried in the manner. Admittedly, the policemen should have been more sensitive in their conduct", said a statement from the Director General of Police (Headquarters).
A one-minute video has also gone viral that showed Qasim lying in a field, his clothes almost torn off. A voice off camera warns the attackers, also off camera, to back off and give some water to him.
2 persons were attacked by Cow Terrorists in Hapur, UP . Someone "claimed" that they were carrying cattle (Not slaughtering) and Cow Terrorists attacked them . One man Qasim (45yo), succumbed .

One more achievement of Modi GauVernment @Uppolice pic.twitter.com/0L1EArai0j

— Md Asif Khan (@imMAK02) June 19, 2018
"You have hit him, assaulted him, enough is enough. Please understand. There are consequences", says the voice.
According to police, Kasim was lynched by a frenzied mob allegedly after a minor motorcycle accident. The mob also injured a farmer Samadeen, who was working in a nearby field.
Also read: Video: Muslim man allegedly killed by the mob over cow slaughter rumours in Uttar Pradesh's Hapur; cops calls it road rage