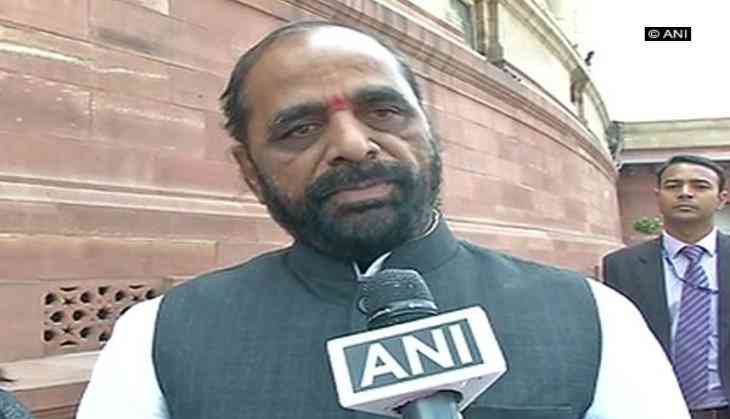 Minister of State for Home Hansarj Ahir has said Prime Minister Narendra Modi is working to resolve the issue of Pakistan-occupied Kashmir (PoK).
Ahir said, "PoK is also India's part as it is mentioned in the Instrument of Accession signed by Jammu and Kashmir's last Maharaja Hari Singh. Since then, PoK is in control of Pakistan, and so, this issue still needs to be resolved. We, under the leadership of Prime Minister Narendra Modi, have the guts to resolve this issue also. This is our will and considering it as the countrymen's first responsibility, Prime Minister Narendra Modi is working in this direction."
The Instrument of Accession is a legal document executed by Maharaja Hari Singh on 26 October 1947. By executing this document under the provisions of the Indian Independence Act 1947, Maharaja Hari Singh agreed to accede to India.
He said the first Prime Minister of India Jawaharlal Nehru failed to complete Jammu and Kashmir's full accession with India.
"As a prime minister it was responsibility of Jawaharlal Nehru to resolve Kashmir issue (accession of Jammu and Kashmir with India) and princely states like Junagarh and Hyderabad were the responsibility of Sardar Vallabhbhai Patel. Junagarh and Hyderabad acceded to India satisfactorily, but Kashmir couldn't as a result the issue of Pakistan Occupied Kashmir is still unresolved," Ahir said.
The PoK is that part of Jammu and Kashmir which was invaded by Pakistan in 1947.
On February 22, 1994, the Indian Parliament passed a unanimous resolution that demanded "Pakistan must vacate the areas of the Indian State of Jammu and Kashmir, which they have occupied through aggression; and resolves that all attempts to interfere in the internal affairs of India will be met resolutely."
-ANI