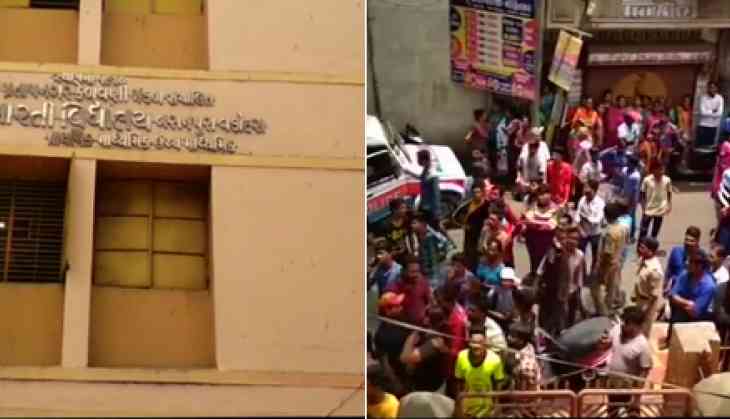 Class nine student of Gujarat's Vadodara's school washroom was allegedly stabbed to death by a senior of Class 10th over a dispute. The school kid murder evoked comparisons to the killing of Class 2 school's seven-year-old Haryana's Gurugram student last year in September.
According to TOI reports, at around 12 noon, some students who went to the washroom saw 14-year-old Dev Tadvi lying in a pool of blood. Dev, who joined the school just two days ago, is suspected to have been killed by a class X student.
An official from the Vadi police station said the body of the 14-year-old was found inside the first-floor toilet near Class 10 with "multiple wounds all over his body inflicted with sharp weapons".
Police commissioner Manoj Sashidhar said, "We have got the CCTV footage that shows the suspect entering the washroom with the victim. We are trying to trace him. But the motive of such a gruesome murder is still unclear."
"The classes of secondary section begin at 12 noon. When some students went to the washroom on the first floor at about 11.30 am, they found Dev lying in a pool of blood. Hearing their screams, our staff rushed there and called up the emergency services and the police," said Surendra Singh, school principal.
Police also found a school bag on the terrace of the temple that is next to this building. "The bag, which probably belongs to the suspects, had two sharp weapons, including a chopper and a sickle besides knuckles and a bottle full of red chilly powder," a senior Wadi police station official said.
The Class 9 minor, Dev's parents reside in Anand, and his father works at a small tea stall on Vadtal Road. He had joined the school two days back as his previous school had classes up to 8th only.
Also read: Amidst 2019 Lok Sabha, Kamal Haasan's Makkal Needhi Maiam gets registered as political parry by Election Commission