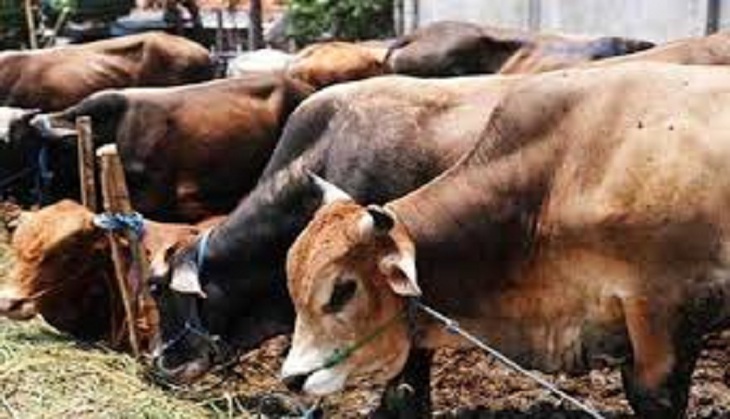 A local court in Surat sentenced a 35-year-old man to three years of imprisonment for reportedly possessing beef in a 2014 case.
The man, identified as 35-year-old Rafik Illyasbhai Khalifa, was also fined Rs 10,000 and charged under the Gujarat Animal Preservation (Amendment) Act-2011.
While delivering the judgement, the judge observed that, "Cow is associated with the religious sentiment of a community. So such a crime threatens the peace of society. If the accused is given jail term, it will serve as an example for others to refrain from committing such a crime."
He also stated that the argument of the defence that the court should be lenient because the accused was from a poor financial background, was "not justified."
"It is not justified to reduce the sentence just on the ground that the accused is from a poor background and his family is dependent on him," the judge observed.
Rafik, a resident of Devda village in Gandevi taluka of Surat district, was arrested on October 8, 2014, after two members of a cow protection group caught him transporting two bags containing 20 kgs beef, on his motorcycle. The beef was estimated to be worth around Rs 4,000.
The Gandevi police, which filed the FIR, later sent the samples of the contents in the bag to a Forensic Science Laboratory (FSL), which confirmed it as beef.
The police booked the accused under sections sections 6(B)(1)(2)(3) and 8(4) of the Gujarat Animal Preservation (Amendment) Act-2011, and sections 429 (causing mischief by killing animals) and 114 (abettor present when offence committed) of the IPC.
However, the court held him guilty only under sections of the Gujarat Animal Preservation (Amendment) Act-2011.
Meanwhile, another accused, Hanif Yusufbhai Mamniyat, a butcher arrested in connection with the same case, was acquitted by the court due to lack of evidence.
--PTI