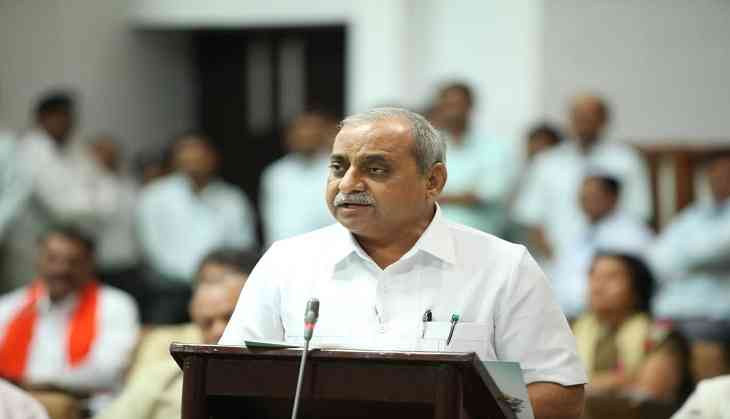 Gujarat's Deputy CM and Finance Minister Vijay Rupani present the first 2018-19 budget of Vijay Rupani-led BJP governments in the Assembly. Patel said that fiscal deficit of the state was at a low record of 1.42 percent of GSDP. In 2015, the revenue surplus of the state increased from Rs 1704 cr to Rs 5947 cr in 2016-17.
Today (February 19) the Gujarat Assembly Budget session began that will conclude on March 28, during which legislative assembly is expected to pass at least six bills. The BJP government came into power last year in December and after two months of their power, the state government's budget session started.
Here are some major highlights of Gujarat Assembly Budget 2018-19:
-Our government policies and development are two sides of the same coin: Nitin Patel
-Revenue surplus in the state increased to Rs 5,946 crore in FY 2016-17 from Rs 1,704 crore in FY 2015-16, says Nitin Patel.
- Rupani government announces a provision of Rs 280 cr for Dholera SIR, which comes under DMIC project that aims to make it a global manufacturing hub.
- Government allocates Gujarat University Rs 42 crore to set up research park on its campus.
-Finance Minister Nitin Patel in his budget speech announced a budget size of Rs 1,83,666 crore for FY 2018-19 up from Rs 1.72 lakh crore the previous year.
-Seaplane gets a provision of Rs 30 cr for seaplane services and for development of new airports.
- The Rupani government also gives a provision of Rs 6,755 crore for agriculture, farmers welfare, and cooperation department.
- The state BJP government allocates a provision of Rs 14895 cr for the Narmada, water resources, and water supply. Other than this, a provision of Rs 488 cr for protecting the Narmada canal from unexpected flood waters and for canal automation work.
- Patel announces a provision of Rs 780 cr in job sector to provide opportunities for employment and vocations to youths in the 2018-19 budget. At least 30,000 new recruitments will be made by the Gujarat government in next fiscal.
- The Vijay Rupani government has announced a provision of Rs 899 cr for the construction of Statute of Unity - Sardar Patel statue.
- Government announces a provision of Rs 592 cr has been announced for metro train project in Ahmedabad.
- A provision of Rs 64 cr to provide free bicycles to 1.84 lakh girls.
-The BJP government said 10 schemes at a cost of Rs 2800 cr has been started in tribal areas for providing drinking water to those residing in those areas.
- The 'Project Lion' has been allocated Rs four crore to provide safeguards to the Asiatic lion from extinction.
- Rs 7,950.50 crore allocated for the health sector in Gujarat. Senior citizens to get the benefit of Maa Vatsalya Yojana in Gujarat Budget.
- A provision of Rs 2 crore allocated to set up virtual classrooms in medical colleges.
-Ahmedabad gets Rs 210 crore for urban development:
Rs 100 crore -- Biomining projects at Pirana Dumping Site
Rs 65 crore -- Split flyover at Pallav Char Rasta
Rs 25 crore -- Gandhigram Rly Station Underpass
Rs 20 crore -- Renovation of Sanskar Kendra & world heritage city museum.
_ Rupani government have allocated Rs 44 crore have been allocated for developing and improving the infrastructure of Gaushala and Panjrapoles.